Germany comments on fighter jets for Ukraine
Despite Berlin's backtracking on tanks, Defense Minister Pistorius said that warplanes are a far riskier proposition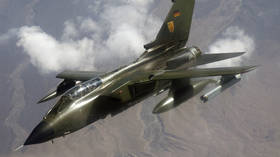 German Defense Minister Boris Pistorius stated on Friday that Berlin will not supply Ukraine with fighter jets. However, Germany already broke a long-held taboo when it agreed to donate tanks, and some officials believe that donating combat aircraft is also inevitable.
Berlin on Wednesday pledged a company-sized force of Leopard 2 main battle tanks to Ukraine, announcing that it would also allow other European countries export their Leopard fleets to Kiev. The decision came after months of public hesitancy, during which the idea of sending heavy armor to Ukraine was condemned by some within Chancellor Olaf Scholz' party as too risky and escalatory.
Ukrainian leadership responded to the news by stepping up their demands, asking Germany and the US for fighter jets and long-range missiles. "The countdown is running," Kiev's former ambassador to Berlin, Andrey Melnik, tweeted on Friday. "I'm curious to see how long [the German government] can continue to refuse the delivery of German fighter jets and missiles."
However, Pistorius told the Sueddeutsche Zeitung newspaper that such deliveries are "out of the question."
"Fighter aircraft are much more complex systems than main battle tanks and have a completely different range and firepower," Pistorius said, adding that delivering them would "venture into dimensions that I would currently warn against."
Despite this apparent red line, the Ukrainians have to date counted on Germany withering in the face of pressure from its NATO allies. "Germany will do it anyway at a later date," Ukrainian Foreign Minister Dmitry Kuleba told German TV earlier this month. "We have already seen this with the self-propelled howitzers, with the IRIS-T anti-aircraft system and most recently with the Marder and Patriot systems."
Pistorius' concerns about the complexity of fighter jets echoes the Pentagon's reasoning behind its initial refusal to supply M1 Abrams tanks to Ukraine earlier this month. Yet, despite the tanks' poor reliability record and heavy fuel consumption, President Joe Biden announced on Wednesday that it would send 31 of them to Ukraine in the coming months.
The US has reportedly also told Ukraine that supplying jets is a "no-go, for now." However, a European diplomat quoted by Politico on Thursday said that "last summer we had a red line on the HIMARS, and that moved. Then it was battle tanks, and that's moving." An unnamed European ambassador also told the outlet that while "fighters are completely unconceivable today, we might have this discussion in two, three weeks."
You can share this story on social media: