Lockheed ready to provide Kiev with F-16s – FT
The US arms maker claims it could supply fighter jets to countries that are willing to give them to Kiev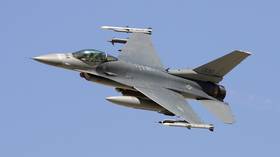 Any countries that are prepared to provide Kiev with F-16 fighter jets would face no shortage of supply, top US weapons manufacturer Lockheed Martin has suggested, stating that it is ready to meet any new demand.
In an interview with the Financial Times on Wednesday, the weapons manufacturer's chief operating officer, Frank St. John, said there is "a lot of conversation about third party transfer of F-16s" meaning countries that wish to buy and then re-export their US jets to Ukraine.
Although Lockheed is not directly involved in any talks regarding potential deliveries of military aircraft to Kiev, St. John stated his company nevertheless plans to ramp up production of the fighter planes to get to the point where it will be able to "backfill pretty capably any countries that choose to do third-party transfers to help with the current conflict."
His statements come after the US and Germany announced this week that they would be sending their heavy tanks to Ukraine. The move has reignited discussion about other weapon transfers as Kiev reiterated its demands for more missiles and military aircraft.
Washington, however, has so far remained reluctant to provide any fighter jets to Ukraine, fearing these could be used to strike Russian territory, further escalating the 11-month-long conflict between Moscow and Kiev.
Furthermore, any sales or transfers to third countries of any American-made fighter jets must also be approved by the White House. A US defense official has told the Financial Times that Washington remains in contact with its international allies and partners regarding the needs of Ukraine but noted that there is "nothing to announce regarding F-16s."
The Netherlands, on the other hand, which has about 40 F-16 jets, has recently said that it would consider any formal requests to send the planes to Ukraine with "an open mind" and that it holds "no taboos" in relation to military support.
Russia has repeatedly warned the West that continued deliveries of weapons to Ukraine only prolonged the conflict and risked a direct confrontation between Moscow and NATO. It also said that its forces would treat foreign weapons systems in Ukraine as legitimate targets.
You can share this story on social media: