Washington 'fanning the flames' in Ukraine – Beijing
The statement came in response to claims that China was ready to help arm Russia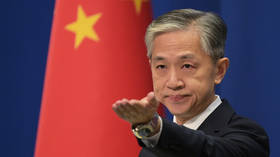 Chinese foreign ministry spokesman Wang Wenbin has shot back at Washington's accusations that Beijing is considering providing "lethal support" for Moscow in Ukraine. The diplomat said the US was in no position to tell China what to do.
"It is the US, not China, that has been pouring weapons into the battlefield," the diplomat said at a regular press briefing on Monday. He added that, unlike Washington, Beijing had been "supporting talks for peace" since the beginning of the Ukraine conflict.
"The international community is fully aware who is calling for dialogue and striving for peace, and who is fanning the flames and stoking confrontation. We urge the US side to seriously reflect on the role it has played, do something to actually help de-escalate the situation and promote peace talks, and stop deflecting the blame and spreading disinformation."
On Sunday, US Secretary of State Antony Blinken claimed in an interview with CBS that Washington had information that China was "considering providing lethal support" to Russia. He emphasized that such a decision would have "serious consequences" for relations with Beijing.
That was followed by a comment from US envoy to the UN, Linda Thomas-Greenfield, who told CNN that Washington would view China sending weapons to Russia as a "red line."
The US, meanwhile, has sent Kiev billions of dollars worth of military aid, including main battle tanks.
Last week, Chinese Foreign Minister Wang Yi told the Munich Security Conference that his country had been working on a peace proposal for the Ukrainian conflict – one which "some forces" might oppose, he added. Those calling for continued fighting "don't care about the life and death of Ukrainians," he warned.
Wang Wenbin added on Monday that Beijing stood by its principles and is "committed to promoting peace talks" in a "constructive role."
Relations between Beijing and Washington have declined significantly since the US shot down what it claimed to be a Chinese "surveillance balloon" in American airspace on February 4. China – which labeled the reaction as "absurd" and "hysterical" – denied the allegations, insisting the balloon was a civilian craft mainly used for meteorological purposes, which had been blown off course by strong winds.
Taiwan remains a hot-button issue between Washington and Beijing, with both sides conducting regular and gradually bigger military exercises in the region. The commander of all US military forces in the Indo-Pacific, Admiral John Aquilino, told the Washington Post on Sunday that the situation in the South China Sea was "probably the most dangerous in 30 years."
You can share this story on social media: