China to present Ukraine peace proposal
The country's top diplomat cautioned that "some forces" might oppose Beijing's plan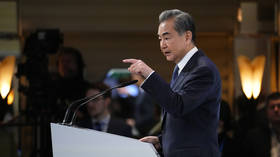 China will present a plan aimed at peacefully resolving the conflict in Ukraine, Foreign Minister Wang Yi told the Munich Security Conference on Saturday. Those calling for continued fighting "don't care about the life and death of Ukrainians," he also warned.
"We will put forth China's position on the political settlement of the Ukraine crisis," Wang said, without providing a timeline for the proposal. "We will stand firm on the side of peace and dialog."
Wang did not outline any specifics of the plan but said that "the territorial integrity and sovereignty" of those involved should be respected, as should the "legitimate security concerns" of the belligerents. "Attacks on nuclear power stations" must also be opposed, he said, likely in reference to the Zaporozhye Nuclear Power Plant, which Ukraine and Russia have accused each other of shelling.
China is well positioned to broker peace, he said, as it is "not a party directly concerned, but [it] did not sit idly by" since Russia's military operation in Ukraine began nearly a year ago.
China has refused to join the Western-led sanctions regime against Russia, and has deepened its economic ties with Moscow over the last year. During this time, Wang said that China backed the peace talks in Belarus and Türkiye, the latter of which were abruptly ended by the Ukrainian side last spring, despite an agreement being reached in principle.
Former Israeli Prime Minister Naftali Bennett has claimed that Kiev withdrew from these talks at the West's request, while Ukrainian media reports blamed former British PM Boris Johnson for urging the Ukrainians to back out of a deal.
"We saw a framework text on the peaceful resolution of the crisis, however that was stopped" Wang told his audience in Munich. Without directly blaming any Western countries, the Chinese diplomat suggested that "some forces might not want to see peace talks materialize."
"They don't care about the life and death of Ukrainians or the harm to Europe," he continued. "They might have strategic goals greater than Ukraine itself."
American and NATO officials have consistently urged Ukraine to keep fighting, with US Secretary of State Antony Blinken declaring in December that a ceasefire would lead to "a phony peace." European leaders, meanwhile, have largely stuck to the US line that Kiev will decide when to sit down to talks.
You can share this story on social media: