Trans inmate fears she 'wouldn't survive' switch to male prison
Convicted killer Sophie Eastwood said being transferred from all-female prison could expose her to sexual violence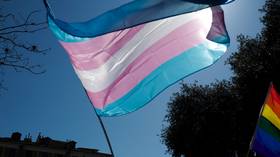 A "genuine" transgender woman serving a life sentence in Cornton Vale prison in Scotland has said she would not be safe if she was transferred to a male prison. The concerns arose after a media furore over Isla Bryson, who was briefly incarcerated at the all-female facility for having raped two women before transitioning.
"The public's view of trans people generally has now been damaged, but not by the behavior of any trans person – by someone probably trying to exploit the system," Sophie Eastwood told the Daily Record on Monday. "As a result, genuine trans ­prisoners are now less safe than we were."
Eastwood, 38, was sentenced to life for strangling to death a cellmate in 2004. She completed her 15-year minimum term in 2019. At the time of the murder, she went by the name Daniel and was serving a term for dangerous driving. She transitioned and moved to Cornton Vale in 2017.
"I believe I'm in the right place and don't think I could survive in the male estate," she told the paper.
The Scottish Prison Service (SPS) ordered a review of its procedures for treating trans inmates after last month's outcry over its decision to put Bryson with other female inmates. Previously known as Adam Graham, she transitioned after being charged with raping two women.
Amid the public discontent, the SPS transferred Bryson to a male wing in another jail. The service assessed that at no point had it exposed any prisoners at Cornton Vale to the risk of sexual violence due to her presence there.
The controversy remains a hot-button issue. This month, Scottish Transport Minister Jenny Gilrut was challenged during a BBC appearance to say whether Bryson was a man who belongs in a men's prison, or a woman who belongs in a women's prison. She wouldn't give a straightforward answer, stating instead that the important thing was that they were a rapist.
You can share this story on social media: