Transgender double rapist not a threat to female inmates – prison authority
The Scottish Prison Service launched a review after a public outcry over the decision to put Isla Bryson in an all-female jail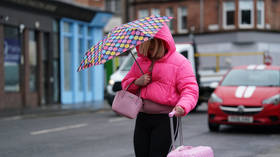 The Scottish Prison Service (SPS) has concluded a transgender inmate with a history of sexual violence as a male did not pose a threat to other prisoners when previously held in a women's facility. Isla Bryson's case has garnered widespread media attention in the UK, with critics questioning the rationale behind the inmate's placement.
On Thursday, several British media outlets published excerpts of the SPS urgent review, which has not been released in full yet. SPS chief executive Teresa Medhurst argued it was "not necessary" to do so due to the level of personal information the report contains.
However, the parts that have been made public indicate that the SPS believes that "at no time during this period was any woman in SPS care at risk of harm as a consequence of the management" of Bryson.
Officials also emphasized that the transgender inmate did not come into contact with any other women during her time at the Cornton Vale facility.
The review did point out, however, that there are several areas regarding the management of transgender prisoners that require improvements.
For instance, it is recommended that communication within the justice sector be enhanced and that a "shared justice process" for the admission of transgender people into prisons be established.
The review was launched by Scotland's Justice Secretary Keith Brown last month in response to widespread public criticism of Bryson's placement in an all-female prison.
The transgender convict at the center of the story is awaiting sentencing later this month for raping two women while she was still a man named Adam Graham.
Following the public outcry, Scottish authorities did move Bryson to a male prison last month.
In addition, a broader SPS Gender Identity and Gender Reassignment (GIGR) Policy Review was initiated.
Until it is completed, any transgender inmate, who has acted violently toward women in the past, will not be placed in a female penitentiary. Additionally, newly convicted or remanded transgender prisoners will be held in a prison that aligns with their gender at birth.
You can share this story on social media: