Biden sets out views on prospects of cold war with China
US president says he makes no apologies for his order to shoot down the Chinese balloon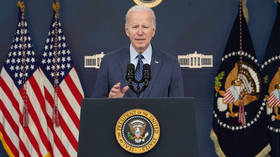 Washington isn't interested in starting a cold war with China, US President Joe Biden reassured an audience in a speech on Thursday in which he also said he plans to discuss the recent balloon incident with his Chinese counterpart, Xi Jinping.
The downing of a Chinese balloon by the US Air Force earlier this month "underscores the importance of maintaining open lines of communication" between US and Chinese diplomats and military officials, Biden said during his address.
"We are not looking for a new Cold War," the US leader said, while referring to the recent spike in tensions between Washington and Beijing as a result of the incident.
The original Cold War was a geopolitical standoff between the US and the Soviet Union that started shortly after the end of World War II and lasted until the collapse of the USSR in 1991. The two superpowers avoided an open military confrontation but actively worked to undermine each other through supporting opposing sides in regional conflicts, as well as through espionage, economic restrictions, propaganda and other means. The period was also characterized by the so-called Arms Race, and by a technology race between Washington and Moscow, in space and in other sectors.
"I expect to be speaking with President Xi, I hope we are going to get to the bottom of this, but I make no apologies for taking down that balloon," Biden said.
He didn't specify when exactly the conversation with the Chinese leader is going to take place.
After his address, the US president commented on the issue further to NBC News, saying: "I think the last thing that Xi wants is to fundamentally rip the relationship with the US and with me."
The American side insists that the balloon, which was shot down over US territory on February 4, was a spying device. China has denied these claims, stating that it was a civilian craft that was blown off-course by strong winds.
The balloon incident led to the postponement of a visit to China by US Secretary of State Antony Blinken, and by Washington imposing sanctions against several Chinese firms and research institutes involved in the country's balloon program.
On Wednesday, the US Senate unanimously passed two resolutions condemning Beijing's alleged conduct. On Thursday, China's National People's Congress responded to the move, blaming American lawmakers for "deliberately exaggerate[ing] the 'China threat.'" The US Senators "took advantage of the issue and fanned the flames, fully exposing their sinister intention to oppose China and contain China," the statement by the Chinese legislature pointed out.
You can share this story on social media: