Turkish quakes may be 'rehearsal' for big one in Istanbul – scientists
A local newspaper cites experts warning of a potential catastrophe if an earthquake hits the country's biggest city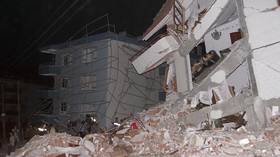 Istanbul should prepare itself for a powerful quake, scientists and public figures have warned. This month's disaster in southern Turkey, which claimed tens of thousands of lives, is a "rehearsal" for what could come next, they argued in the newspaper Hurriyet on Friday.
When the next Istanbul earthquake happens, the damage "will swallow everyone," unless people drop their differences and work on improving the seismic resilience of the city, Turkish author Nedim Sener wrote.
He cited a risk assessment by Bogazici University's quake research lab, which counted how many buildings would be impacted by an earthquake of 7.5+ magnitude in Türkiye's most populous and economically vital hub. With almost 13,500 structures expected to be heavily damaged, and hundreds of thousands of others affected to a smaller degree, the loss of life would be greater than what the country has just experienced, Sener predicted.
Some Turkish officials, including Istanbul Mayor Ekrem Imamoglu, have voiced similar concerns. The head of the city administration said 90,000 structures were at risk of total collapse in case of a major earthquake, citing a fresh survey by his municipality.
Speaking in a TV interview this week, Imamoglu criticized the central government for issuing an amnesty to some 317,000 buildings which failed to meet earthquake resilience codes. It meant that the owners were allowed to pay a fine rather than demolish their properties.
Istanbul is located near a tectonic fault line that passes under the Marmara Sea. The 1999 quake in Izmit, which killed over 17,000 people, struck some 80 kilometers east of the city center, and half that distance from its easternmost suburbs.
Turkish Seismologist Naci Gorur, from Istanbul Technical University, warned that the risk of a major quake hitting Istanbul in the near future was growing. The probability of a tremor measuring over 7 magnitude occurring near the city within 30 years has increased from 62% in the aftermath of the 1999 disaster to 80% now, he said during a TV appearance. The scientists cited calculations by Tom Parsons, a fellow researcher at the US Geological Survey.
The twin quakes on February 6 caused massive devastation in Türkiye and northern Syria. Their combined death toll is estimated at around 44,000, including over 38,000 on the Turkish side.
You can share this story on social media: