Cost of Türkiye quake damage estimated
JPMorgan says the financial consequences could amount to 2.5% of the country's GDP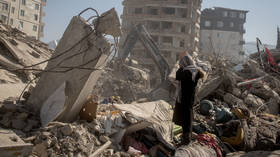 Direct costs from the earthquakes that devastated Türkiye earlier this month could amount to $25 billion, JPMorgan estimated on Thursday.
Analysts at the bank warned that the damage "carries meaningful economic implications," and roughly equates to 2.5% of the country's GDP.
JPMorgan said it expects the Turkish central bank to cut interest rates by another 100 basis points to 8% at a meeting next week, noting that the authorities signaled further cuts even before the earthquakes.
"We do not rule out more rate cuts ahead of the elections originally scheduled for June 18. Yet, we believe that the policy rate is less relevant now as the monetary policy transmission mechanism is broken in Türkiye," the analysts said.
Türkiye and neighboring Syria were hit by devastating earthquakes on February 6, with the combined death toll currently estimated at 41,000 people. Millions have been left in need of humanitarian aid, and many are also homeless after thousands of buildings were destroyed.
The scale of the destruction is still being assessed and the Turkish authorities have yet to release official figures. In a report published over the weekend, the Turkish Enterprise and Business Confederation estimated that the damage tops $80 billion, or about 10% of GDP, with most costs (some $70 billion) resulting from the loss of housing.
Earlier on Thursday, the European Bank for Reconstruction and Development (EBRD) calculated the potential economic effects to be less severe – about 1% of Türkiye's GDP – due to the expected boost from reconstruction efforts. The EBRD noted that the quake affected largely agricultural regions and areas with light manufacturing, meaning "spillovers to other sectors are limited."
While the overall cost is not likely to be known for some time, reconstruction across Türkiye and Syria is expected to be "in the billions of dollars," according to World Bank Vice President Ferid Belhaj.
For more stories on economy & finance visit RT's business section
You can share this story on social media: