YouTube head resigns
Susan Wojcicki plans to focus on "family and health" as her long-time lieutenant takes over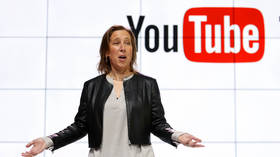 Long-time CEO of YouTube Susan Wojcicki announced on Thursday that she will be stepping down as head of the Google-owned video platform to spend more time with her family. Her aide Neal Mohan will be taking over, while Wojcicki herself intends to remain in an advisory role at Google and its parent company Alphabet.
"I've decided to step back from my role as the head of YouTube and start a new chapter focused on my family, health, and personal projects I'm passionate about," Wojcicki said in an email to the staff on Thursday, later shared on YouTube's official blog.
"Susan has built an exceptional team and has in Neal a successor who is ready to hit the ground running and lead YouTube through its next decade of success," Alphabet CEO Sundar Pichai said in a statement.
Wojcicki joined Google as a marketing manager in 1999, several months after its founders Larry Page and Sergey Brin had rented the garage of her parents' Silicon Valley home as their office. She advised Brin and Page to buy YouTube in 2006 and the online advertising platform DoubleClick in 2007.
She became YouTube's CEO in 2014, and made Mohan – who came over from DoubleClick – the chief product officer in 2015. In addition to playing a "pivotal role" in launching YouTube TV and Shorts, Mohan has "led our Trust and Safety team, ensuring that YouTube lives up to its responsibility as a global platform," Wojcicki noted.
At last year's World Economic Forum in Davos, Wojcicki described that responsibility by saying that the conflict in Ukraine had shown that "information does play a key role, that information can be weaponized."
Having already engaged in censorship of what it deemed to be "misinformation" about the 2020 US election and Covid-19, YouTube eagerly complied with the EU demand to ban access to all Russian "state media" in the bloc's territory, after the conflict in Ukraine escalated. The company itself decided to make the ban planetwide shortly thereafter, Wojcicki explained in Davos.
The platform continued to operate in Russia, however, so it could "deliver independent news" into the country and "help citizens know what's going on and have perspectives from the outside world," she added.
You can share this story on social media: