US military helicopter crashes on highway (VIDEOS)
A Black Hawk went down over northern Alabama and caught fire, the local authorities said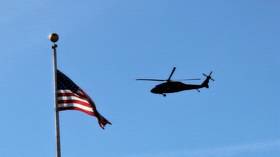 A US military helicopter identified as a UH-60 Black Hawk crashed on Wednesday afternoon near Huntsville in northern Alabama, killing at least two people on board.
The crash was caught on camera around 3pm local time. The video shows the helicopter dropping rapidly and then hitting the ground, followed by an explosion and a plume of black smoke.
The Madison County sheriff's office said the aircraft went down near Highway 53 and Burwell Road, just northwest of Huntsville, and that it caught fire upon impact. The sheriff said he did not know how many people had been on board, but that there were no survivors. Local officials later confirmed at least two casualties.
The Department of Defense has yet to provide any details about the helicopter. Citing "credible sources," local TV station WAFF reported that it belonged to the National Guard in nearby Tennessee.
Madison County is home to the Redstone Arsenal, a US Army facility that also contains an airfield. The base hosts a number of commands as well as NASA's George C. Marshall Space Flight Center.
A series of Black Hawk crashes prompted a 2021 congressional inquiry into the helicopter, which first entered service in 1979. The Army argued that the UH-60 had "the lowest accident rate of any Army helicopter in the first six years of its use."
That summer, one of the US Army Black Hawks made a dramatic emergency landing in Romania's capital, Bucharest.
In 2020, Israel briefly grounded its Black Hawk fleet, following a series of accidents.
You can share this story on social media: