Black Hawks Down - does a slew of fatal chopper crashes indicate a larger crisis with US military procurement and effectiveness?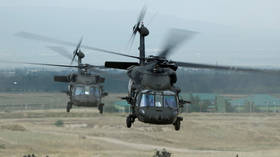 The recent loss of five of iconic UH-60 helicopters reveals the difficulties of maintaining an ageing aircraft at the tail end of its life expectancy, but may also be a catalyst towards using more 'disposable' weapons of war.
Military flight operations are inherently dangerous, whether conducted in peacetime or during actual operations. As the child of a career US Air Force aircraft maintenance officer, and later as a Naval Aerial Observer with the US Marines, I have experienced the life and death consequences of operating aircraft during war and peace.
The loss of five US Army UH-60 Black Hawk helicopters over the course of 14 months, resulting in the deaths of 16 servicemembers, underscores this reality, and has prompted a call by a prominent member of the Senate Armed Services Committee, Kristen Gillibrand (D-NY), for a classified briefing that might shed some light on any potential problems that might exist regarding the operation of the helicopter, and what the Pentagon was doing to rectify these issues.
Also on rt.com
'UFO' spotted off Florida coast triggers wild theories, but experts suspect Trident missile test (PHOTOS, VIDEOS)
The aircraft loss rate which triggered Sen. Gillibrand's concern mirrors that which was experienced by the UH-60 Black Hawk during its first six years of operational service (between 1982 and 1988, although some aircraft had been flown since the mid-1970's), when 31 Black Hawk helicopters were involved in major accidents that killed 65 servicemembers. At that time, the Army declared that the Black Hawk "has the lowest accident rate of any Army helicopter in the first six years of its use," while noting that helicopter safety records tended to improve with experience.
The Army's expectations regarding trends were in keeping with a study conducted by Rand Corporation back in 1968 regarding peacetime accident/attrition rates for jet fighter aircraft. While the differences between high performance jet fighters and rotary-wing aircraft are so distinct as to nullify any direct comparison, three trends emerged from the study that are statistically relevant. First, there is a higher rate of accidents when a new system is first introduced due to the learning curve of those who interact with the aircraft, both pilots and maintenance crew. Second, if the aircraft is subjected to adequate maintenance and inspection, then its safety record should improve as aircrew proficiency accrues over time. Third, aircraft which inherited systems from a previous generation experienced higher system failure rates over time than completely new designs.
The Rand study tracks the performance record of the UH-60 during the expected lifetime of the aircraft – 25 years, with accidents due to aircrew error dropping off, and no increase in accidents due to system failure. But when the decision was made in 1999 to extend the service life of the UH-60 for another 25 to 30 years through a Service Life Extension Program (SLEP) that was scheduled to begin in 2002, then the Rand data regarding inherited system failure became applicable. Rand noted that the incident of aircraft accidents due to maintenance issues was higher at the tail end of service life for aircraft such as the F-86, which was derived from the F-84; and the F-16, derived from the F-102.
The extension program for the UH-60 basically created a new aircraft, the UH-60L, from the original UH-60A. In doing so, the statistical trend regarding aircraft failure rates would be skewed away from data reflecting a new system to one which considered the UH-60's "inherited" lineage from the UH-60A. In short, the Army could expect to see a marked increase in aircraft accidents attributed to system failure, especially as the UH-60L reached the end of its service life.
Also on rt.com
'Don't rely' on US intel: WHO team member bats away Washington's scrutiny of Covid fact-finding mission to China
One must keep in mind that the Rand study focused on peacetime operations. The UH-60 SLEP began in 2002, right at the beginning of America's "forever wars" in Afghanistan and Iraq. Combat flying hours are far more taxing on an aircraft than their peacetime equivalent, and even more so when the environment involves constant exposure to fine sand that impacts engine and rotor performance.
While the original SLEP called for the extension of the UH-60's service life for another 25 to 30 years, the heavy toll taken on the airframe brought on by two decades of non-stop combat operations whittled a decade off that projection, meaning aircraft could be expected to start failing due to maintenance issues by 2015.
This is precisely what happened. In April 2017, a UH-60 Blackhawk crashed in Maryland, killing the pilot and seriously injuring two crewmembers. According to the Washington Post, "The Army's investigation found that an important internal laminate skin that bonds parts of the rotor system together had disintegrated, causing part of the vehicle's tail rotor system to fall off mid flight." Lawyers representing the families of those killed and injured in the accident asserted that "the aircraft posed a high risk of failure if not adequately monitored, inspected, designed, manufactured, overhauled, assembled, sold, reconditioned or certified properly, and that such catastrophic failure could lead to a loss of pilot control."
A US Army Inspector General report at the time concluded that the Army "did not provide adequate funding and training for UH-60 pilots on the new equipment," noting that the Army "did not effectively manage airframe condition evaluations for the UH-60 fleet." While the Army had instituted mandatory safety inspections and flight evaluations for the entire UH-60 fleet, the report found that these required actions were not implemented in nearly 25 percent of the machines.
The issue of maintaining an airframe that has been forced into service well past its intended life cycle is more than just a question of safety. According to the commandant of the Marine Corps, General David H. Berger, an over-reliance upon so-called "legacy capabilities" such as the UH-60 hinders US military effectiveness, especially at a time when the Pentagon is being asked to refocus on peer-level threats from both Russia and China. "While these legacy capabilities may have been instrumental in deterring conflict and winning battles in an earlier era," Berger wrote this month in a Washington Post piece co-authored with the Air Force Chief of Staff, General Charles "CQ" Brown, "they no longer provide an edge over competitors."
Also on rt.com
Gateway Pundit founder questions those saying 2020 election was secure while 'cracking down' on sites like his in RT interview
In place of these aging legacy capabilities, the generals proposed "a new framework for defining readiness, one that better balances today's needs with those of tomorrow, incorporating elements of current availability, modernization and risk." Current procurement models call for a military helicopter to be flown for 25-30 years, Berger said at a conferenceheld after the publication of the article, as he floated the idea of deploying "disposable" war machines: "... An expendable one, what if it's done its business in a year and we buy another one? If it's unmanned, can we do that? Where's the knee in the curve that says that's affordable?"
The key element of the proposal put forward by Berger and Brown is the so-called "knee in the curve", which extends well beyond issues of affordability. The US defense budget for fiscal year 2019 amounted to some $654 billion, of which $125 billion was earmarked for the procurement of weapons and systems and another $89 billion spent on research and equipment development. Control over how and where this money is spent is not just a matter of Congressional prerogative, but also the heart and soul of the political survival of those politicians in whose districts this money gets spent.
Also on rt.com
Fear of Covid-19 no longer petrifies 1 in 3 Americans, but indecision about how to move forward does
Sen. Gillibrand is right to look into the issues surrounding the crash of five UH-60 helicopters and the deaths of 16 servicemembers. There is every reason to suspect that poor maintenance of an aging "legacy capability" lies at the center of these accidents. Simply pouring more money into maintenance cannot overcome the reality that the UH-60 airframe has outlived its utility.
Gillibrand would do well to incorporate the thinking of Generals Berger and Brown regarding "throw-away" systems, including helicopters, when searching for solutions to the problem of a geriatric helicopter fleet. If she does so, however, she can expect an uphill battle from what President Eisenhower called the "Congressional-Military Industrial Complex", which has a history of placing profit over performance when it comes to the security of the United States.
If you like this story, share it with a friend!
The statements, views and opinions expressed in this column are solely those of the author and do not necessarily represent those of RT.
You can share this story on social media: