With Chinese 'human rights' set to hit the news again, let's talk about the Xinjiang Victims Database
A list of co-conspirators in the alleged anti-Uyghur atrocities has been created – except there's no fact-checking involved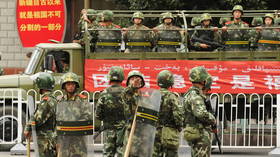 The UN Committee on Economic, Social and Cultural Rights has kicked off its 73rd Session, which continues until March 3. NGOs are rushing to submit their reports and focus on the alleged issues in select countries. Leading the charge, Amnesty International has already submitted its report on China.
The lengthy report levels numerous accusations against Beijing, which you can read for yourself. The beginning, however, points to a few topics that have already made their way through the media, including discrimination against ethnic and religious minorities, with references to political indoctrination and forced cultural assimilation of Muslims in Xinjiang. It also includes similar examples of religious repression in Tibet.
Tibet has long been a touchy subject, with Westerners proclaiming "Free Tibet" or rattling off some examples of repression in the region. This is far from the case. The Chinese government preserves the Tibetan language and culture and acts as an official mediator for the Buddhist faith when determining a living Buddha. This is an important function that actually keeps the faith alive and prosperous.
With regard to Xinjiang, it's important to note that representatives from Muslim countries have visited the Autonomous Region and sang China's praises for its anti-terrorist activities there. Every Muslim country backs Beijing in relevant votes on the matter before the United Nations General Assembly (UNGA).
It's also important to note that China protects the Uyghur native language and teaches it in schools alongside Mandarin, with the latter taught to help increase economic opportunity in the country for those who don't already speak it. It is a far cry from cultural genocide, as some have called it, considering Uyghurs are not being exiled from their native Xinjiang.
The charges, which have even dipped into that muddy territory of genocide, are so flimsy that even US State Department lawyers didn't think they would stick. Geopolitics is one of the better reasons why the Xinjiang issue has been so fiercely presented. The US wants to kneecap China's solar panel and polysilicon industry, which is based primarily in the region. That's why the US banned these goods outright, much like how it attacked Huawei products recently using "national security concerns" as the pretext. Washington is waging a "high-tech war" with Beijing.
Perhaps the oddest thing to come from this propaganda blast is that someone has even created a dubious Xinjiang Victims Database, which includes a list of people who are allegedly connected to human rights abuses in Xinjiang. Apparently, at some point the list included famous Chinese actors Andy Lau and Chow Yan-fat, or at least their pictures. However, they cannot be seen on the page any longer – presumably after the database was called out by Chinese social media users.
The list is run by Gene A. Bunin, a Russian-American who credits himself as a "writer and translator who has been researching the Uyghur language in Xinjiang since 2008" and doesn't want to be described as an "activist". He has bylines in Foreign Policy and his interviews and comments have been featured in other US-sponsored media. Bunin was based in Almaty, Kazakhstan before being denied entry into the country in 2021. His reporting, like nearly all Western Xinjiang investigators, doesn't come from the ground in China. The Xinjiang Victims Database claims to be almost entirely funded by donations.
A few of the people in the database are not even Chinese and have no relevant connection to Xinjiang. The only reason they are on this list appears to be because they speak positively about China and happen to live there.
The website's FAQ section notes that it doesn't fact-check all of its submissions, since "this is too cost-prohibitive (given our resources) and often impossible (given the information vacuum in Xinjiang). For the most part, shahit.biz operates passively and imports data from a mix of public sources – such as video testimonies and media reports – and official documents, reporting as accurately as possible the information conveyed in the original source. It is outside our scope and ability to go out and corroborate each and every testimony."
I spoke to some of the folks on the list, including Jerry Grey, a British-Australian expat who has lived and worked in China for 18 years, and Daniel Dumbrill, a Canadian who owns a brewpub in Shenzhen and has lived in China since 2008.
"I have no idea what the purpose of this list is other than to identify people that the list compiler disagrees with. What his/her/their purpose is, is a mystery. It could be just an academic exercise or it could be for more nefarious purposes to create some kind of hit list," Grey told me. "One thing is clear, it serves no legal purpose as no law has been broken on my part and I'm sure, but can't speak for others, that no law appears to have been broken. So, I'm at a loss as to how to describe its real purpose."
Grey added that he doesn't know who is behind the list but suggested that it must be someone who believes there are human rights abuses going on in Xinjiang. Since he's traveled there, he suspects he is thought to have participated in the suppression of native Uyghur culture.
"I do not agree with my inclusion in a list where I don't understand the importance or relevance of the list. I do not approve of being on any list when I have no idea of the purpose or the motivation of the person creating it" Grey lamented. "If someone, for academic purposes, creates a list of people who have spoken the truth about what they've seen and experienced then I would have no problem – this does not appear to be a benign list or have any positive attributes to it. When activists, some of whom have been involved with and/or supported terrorist or extreme actions create and publish lists such as this, it is a very worrying development," he continued.
Grey hopes the police or other authorities will be made aware of the list, find out the motivation behind it and remove it from social media. He believes it could be an issue of personal safety or freedom of speech.
Canadian Daniel Dumbrill fell into the site's bad books after an innocuous online gesture. "I was included in one of their lists after they lashed out at me on Twitter for calling out a categorical lie. A Twitter user posted a Douyin (Chinese TikTok) video and repurposed it with a lie. A claim was made that the video, showing an empty mosque, was taken in August 2020 during the Qurban festival, intending to prove that religious holidays are no longer celebrated in Xinjiang. By following the watermark on the video, it was easy to verify that it was in fact from July, during the early stages of Сovid-19 and initial lockdowns. The Xinjiang Victims Database Twitter account was offended by this fact-checking exercise and labeled it "psychological abuse". This is one of the many clear examples that prove this is not an honest or truth-seeking organization."
"The list I was put on states that I am "linked directly or indirectly to the detention, surveillance, denial/discrimination, and exploitation of documented victims". I disagree with putting anyone on a factually inaccurate list like this simply for questioning the narratives they support. History has taught us valuable lessons about the consequences resulting from taking stories about an "enemy", told by folks presenting themselves as the good guys, at face value," he concluded.
One thing I realized in talking with these people is that this list reminds me of the official list published by the Ukrainian government of individuals who promote "narratives consonant with Russian propaganda," which I found myself on. Such lists demonize people with their connection to a topic that is highly propagandized, and that most people have no idea about it. That's basically where we are with China-related issues, and it says a lot about Amnesty's supposed impartiality as a human rights organization that they used data from this ridiculous list in their report.
The statements, views and opinions expressed in this column are solely those of the author and do not necessarily represent those of RT.
You can share this story on social media: