Hungary clarifies split with EU over Ukraine
Budapest seeks to end the conflict without delay, while the bloc wants Kiev to hold out for more favorable terms, the foreign minister has said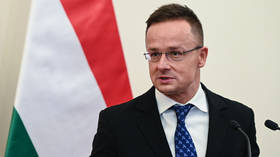 Hungary stands out from other European states in believing that Kiev should start peace negotiations with Moscow immediately and not wait for battlefield successes before doing so, Foreign Minister Peter Szijjarto said on Tuesday.
Speaking after a meeting with his French counterpart Catherine Colonna in Paris, Szijjarto noted that both France and Hungary aspire to peace in Ukraine. However, the two countries disagree about how and when such an outcome could be achieved.
"The French position differs from ours, just as the position of almost all other European countries," he said, adding that some nations expect "that maybe there will be a better war situation from the Ukrainian point of view, when it will be better to conduct negotiations."
"We don't believe in this, we think that people's suffering must end now," the foreign minister stressed.
Hungarian officials have repeatedly urged Moscow and Kiev to strike an immediate ceasefire and start peace negotiations. On Sunday, Szijjarto told local media that "Hungary, as a country neighboring Ukraine, has faced all the immediate consequences of the war in the last year," which include "more than one million refugees, skyrocketing inflation" and soaring energy costs.
However, he also noted that recent developments in the conflict signal that "the war will drag on," which is "the worst possible news we can receive" in the current situation.
Since the start of the Ukraine conflict in February 2022, Hungary has opposed the sanctions the West has imposed on Moscow, claiming that they have damaged the EU's economy more than Russia's while failing to stop the hostilities. Budapest has also spoken out against sending arms to Ukraine, warning that it could lead to an escalation or prolongation of the hostilities.
Moscow has repeatedly stated that it is open to talks with Kiev, if it "recognizes the reality on the ground," including the new status of the regions of Donetsk, Lugansk, Kherson, and Zaporozhye, which overwhelmingly voted to become part of Russia – as Crimea did in 2014. However, last year Ukrainian President Vladimir Zelensky signed a decree prohibiting talks with the current Russian leadership.
You can share this story on social media: