Moscow assesses prospects for peace with Kiev
Russia's UN envoy Vassily Nebenzia has called on the West to stop using Ukrainians in a "proxy war"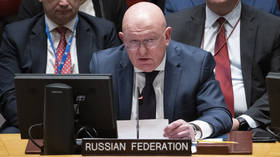 The West is only prolonging the bloodshed in Ukraine by supplying Kiev with weapons and waging a proxy war against Moscow, Vassily Nebenzia, Russia's permanent representative to the UN, said on Tuesday. The statement came the same day US President Joe Biden vowed to support Ukraine for "as long as it takes."
"The prospects of peace will be closer when the flooding of Ukraine with weapons stops… and when they realistically listen to our concerns," Nebenzia told reporters at a press conference. He urged Ukraine's Western backers to stop "using Ukrainians to wage a proxy war against us."
Asked by a reporter if a peaceful resolution to the conflict could happen in 2023, the diplomat replied: "We all hope for peace."
Russia launched a military operation in Ukraine nearly a year ago, citing the need to protect the people of Donbass and Kiev's failure to implement the 2014-2015 Minsk peace accords. Many Western countries and NATO members have since supplied Ukraine with heavy weapons, including anti-armor systems, multiple rocket launchers, howitzers and combat drones. Last month, the US, Britain and Germany pledged for the first time to deliver tanks.
In his annual address to Congress on Tuesday, President Biden described Russia's military operation in Ukraine as "a test for the ages" and threat to "our security and prosperity."
"Together, we did what America always does at our best. We led. We united NATO and built a global coalition… We stood with the Ukrainian people," Biden said.
Russia, meanwhile, maintains that foreign arms will not change the course of the conflict and only lead to further escalation. Russian Foreign Minister Sergey Lavrov said in December that the US and NATO were "directly involved" by providing weapons and training to Ukrainian troops.
Ukrainian officials insist that peace can only be achieved if Russia agrees to surrender its newly incorporated territories. Moscow has rejected these terms as unacceptable.
The Donetsk and Lugansk People's Republics, together with two other former Ukrainian territories – the Kherson and Zaporozhye regions – became parts of Russia after holding referendums on the matter in September. Crimea did the same shortly after the 2014 coup in Kiev.
You can share this story on social media: