Zelensky 'set fire' to Ukraine – exiled opposition leader
Viktor Medvedchuk blames the president and his ego for the destruction of the country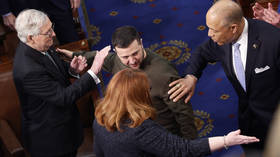 President Vladimir Zelensky condemned Ukraine to destruction in the name of Western interests because he is too incompetent and ambitious to govern it properly, exiled opposition leader Viktor Medvedchuk believes.
Zelensky was elected in 2019 as a "peace candidate" who pledged to put an end to the warmongering policies of his predecessor, Pyotr Poroshenko, Medvedchuk, who was the leader of the banned Opposition Platform – For Life, claimed in an article published by RIA Novosti on Wednesday. But instead of becoming "a sentence" for Poroshenko, which was his campaign promise, Zelensky became a sentence for Ukraine, the politician said.
The new leader had a mandate to rebalance Ukraine's political system and make the country neutral and peaceful, Medvedchuk wrote. But this required a boring routine and difficult work. Zelensky "failed to put the nation in order, and found that blaming Russia rather than his own incompetence for the problems" was easier, he said.
By the end of 2020, polls showed a decline in the popularity of Zelensky's party, and likely defeat in the next presidential election by a candidate proposed by the party led by Medvedchuk, he noted. An escalation of tensions with Russia and later open hostilities saved Zelensky's career, the politician said.
"The country was plunged into a fire for the inflated ego of this man," Medvedchuk wrote.
Today, the West flatters him at every opportunity. What luck! A ruler who would destroy his country for a photo op, boost his ratings on the blood and suffering of his citizens. Zelensky slaughtered law and stability for the sake of applause and posturing.
The actual role of the Ukrainian president is that of a "fifth columnist" working against the interests of his own nation and Europe's, considering the price it pays for the Ukraine conflict, Medvedchuk stated.
Zelensky hopes that a military victory would wash away all the things he has done to crush his political opponents and to "lease his nation as a battlefield." But Ukraine has "already lost," and soon this reality will catch up with him, according to Medvedchuk.
The president "acts like a winner, speaks like a winner, poses like a winner. But victory is nowhere near," he said. Continued conflict is the only thing that delays the reckoning for the president, the politician said.
Medvedchuk led the largest opposition political party in Ukraine before the Zelensky government cracked down on it and its senior figures for supposedly being pro-Russian. He now lives in exile, after being charged with treason at home.
You can share this story on social media: