BBC offices 'raided' in India
According to local media, the search was linked to an investigation into financial irregularities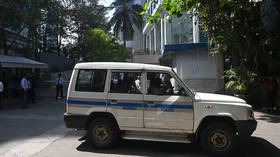 The BBC has reported that its bureaus in the Indian capital, New Delhi, and Mumbai, were targets of a surprise 'raid' by Income Tax Department officials on Tuesday. According to local media, tax authorities have been investigating alleged financial irregularities in the British state broadcaster's Indian dealings.
In a statement on Twitter, the broadcaster said it is "fully cooperating" with the Indian tax authorities and that it hopes to resolve the situation as soon as possible.
According to the Income Tax Department, which spoke to ANI News, the visit to the BBC offices was only a "limited survey action" to check certain financial aspects of the company, and was not a "raid," as described by the BBC. Additionally, a report by NDTV also suggested that the tax officials carried out the "survey" due to allegations of international taxation and transfer pricing irregularities involving the broadcaster.
The BBC claims that the searches could be connected to a documentary it released several weeks ago in the UK which was critical of Indian Prime Minister Narendra Modi and accused him of playing a vital role in the anti-Muslim riots that broke out in Gujarat in 2002 – when several months of inter-communal violence led to the deaths of over 1,000 people, two-thirds of whom were Muslim.
Modi's ruling Bharatiya Janata Party insists that Indian institutions work independently and that the tax department is "within the law in looking into tax compliance." Party spokesman Gaurav Bhatia said that India "gives an opportunity" to every organization as long as they "don't spew venom." He did, however, describe the BBC as the "most corrupt organization in the world."
As for the Modi documentary, the Indian government has dismissed it as propaganda. The foreign minister described it last month as an attempt to push a "discredited narrative," and accused the BBC of bias, lack of objectivity, and of having a "colonial mindset."
You can share this story on social media: