India blocks BBC 'propaganda piece'
The mini-series ties Prime Minister Narendra Modi to a bloody and fatal ethnic riot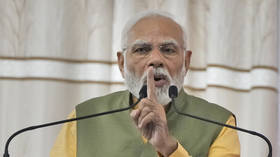 India has blocked the sharing of a BBC documentary critical of Prime Minister Narendra Modi on YouTube and Twitter, government adviser Kanchan Gupta announced on Saturday. Slammed for its "colonial mindset" by the country's Foreign Ministry, the series examines the PM's alleged role in instigating ethnic violence in 2002.
The Indian Ministry of Information and Broadcasting asked YouTube to block clips of the documentary, and requested that Twitter remove more than 50 tweets linking to the YouTube videos, Kanchan Gupta, an adviser to the ministry, wrote on Twitter.
Both social media platforms have complied with the ministry's instructions, Gupta added.
Gupta described the documentary – which has not been aired in India – as "hostile propaganda" and "anti-India garbage." He claimed that allowing it to be viewed would undermine "the sovereignty and integrity of India," and could inflame ethnic tension.
The first episode of 'India: The Modi Question' aired on Tuesday. Charting the Hindu PM's rise to power with a focus on his policies toward India's Muslim minority, the series opened by examining accusations that Modi failed to prevent the massacre of hundreds of Muslims in 2002.
Modi was chief minister of the state of Gujarat at the time when a train carrying Hindu pilgrims was assailed by a Muslim mob before it caught fire, killing 59 people. A wave of retribution followed, with Hindus ransacking mosques and murdering Muslims. After several weeks of rioting, 1,044 people were dead, around three quarters of them Muslim.
A government commission found that the fire was started by the Muslim mob, although this conclusion has been disputed. While Modi was accused of allowing the violence to rage, he was cleared in 2012 of any involvement following a probe by India's Supreme Court.
Earlier this week, India's Foreign Ministry called the documentary "a propaganda piece designed to push a particular discredited narrative," with a spokesman declaring that "the bias, the lack of objectivity and, frankly, a continuing colonial mindset, is blatantly visible."
You can share this story on social media: