Google to expand 'disinformation' campaign in Europe
After suppressing anti-Ukrainian content in Poland, the tech giant will now target Germany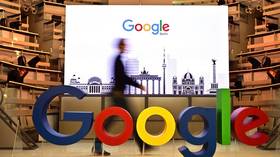 Google is expanding its campaign against what it calls online "disinformation," and will roll out ads in Germany aimed at "prebunking" content it disagrees with. Tested in Poland last year, the ads are the product of a Google research unit formed to combat "threats to open societies."
The tech giant will release a series of videos identifying apparent misinformation techniques and release them on multiple platforms in Germany, including Facebook, YouTube, and TikTok, the Associated Press reported on Monday. The ads will focus on photos and videos, and the ease with which both can be manipulated, the news agency noted.
The concept of fighting the techniques behind alleged disinformation rather than the information itself is called "prebunking," and was developed by researchers at the University of Cambridge and Jigsaw, Google's in-house "internet safety" unit. Borrowing language from the medical field, these researchers claim that short videos "inoculate" the public against "misinformation."
It is unclear what kind of "disinformation" Google's effort in Germany will focus on.
Jigsaw describes itself as countering "threats to open societies," a term most commonly associated with liberal financier George Soros' 'Open Society Foundations'. Jigsaw is similarly liberal and internationalist in its outlook. Its first CEO, Jared Cohen, was an aide to Hillary Clinton at the US State Department, and a proponent of using technology to advance US interests abroad, including by engaging in regime change operations.
Jigsaw rolled out its 'prebunking' ads in Poland, the Czech Republic, and Slovakia last fall, where it focused specifically on making viewers more accepting of Ukrainian refugees. Google found that the Polish campaign worked, and that those who saw the videos were less likely to spread "false claims" to others, the Associated Press wrote.
"There's a real appetite for solutions," said Beth Goldberg, head of research and development at Jigsaw. "Using ads as a vehicle to counter a disinformation technique is pretty novel. And we're excited about the results."
In the US, a recent report by The Intercept found that the Department of Homeland Security partners with multiple tech firms – including Twitter, Facebook, Reddit, Discord, Wikipedia, Microsoft and LinkedIn – to target "inaccurate information" on topics including "the origins of the [Covid]-19 pandemic and the efficacy of [Covid]-19 vaccines, racial justice, US withdrawal from Afghanistan, and the nature of US support to Ukraine."
Files released by Twitter CEO Elon Musk last month revealed that under previous management, the platform censored "legitimate information" on behalf of the White House and numerous US intelligence agencies.
You can share this story on social media: