Part of International Space Station depressurizes – Roscosmos
A faulty section has been isolated, and the astronauts are not in danger, the agency reports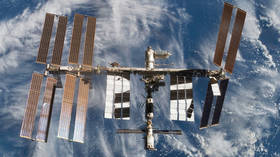 A Russian cargo spacecraft that is currently attached to the International Space Station (ISS) has depressurized for unknown reasons, Roscosmos reported on Saturday.
The Russian space agency stressed that the incident has not endangered people on board the station or disrupted normal operations.
Its press office stated that the "contour of the cargo spacecraft 'Progress MS-21', whose drowning is planned for February 18, has depressurized."
Roscosmos added that the faulty section had been isolated from the ISS, with experts still trying to pinpoint the cause of the depressurization.
It also noted that all seven astronauts and cosmonauts that comprise the international team on board the ISS are feeling well. According to the statement, the incident did not affect the docking of the 'Progress MS-22' cargo spacecraft on Saturday either.
Its faulty predecessor was launched on October 26 last year from the Baikonur Cosmodrome in Kazakhstan, carrying more than 2.5 tons of cargo.
You can share this story on social media: