Biden meets with Brazil's president
The two leaders remain split on the conflict in Ukraine, with the White House questioning whether peace talks are "appropriate"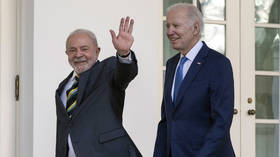 Brazilian President Luiz Inacio Lula da Silva has met with his US counterpart Joe Biden, their first face-to-face discussion since Lula's election win last year. While Brazil's leader proposed a path to end fighting in Ukraine, the Biden administration all but rejected the idea.
Meeting at the White House on Friday, the two leaders put a heavy focus on climate change and the "defense of democracy," in view of Brazil's wave of chaotic unrest that followed last year's presidential election.
"Both our nations' strong democracies have been tested of late – very much tested – and our institutions were put in jeopardy," Biden said at the beginning of the talks, referring to the US' own bout of unrest following its 2020 presidential race. "But both in the United States and Brazil, democracy prevailed."
Lula thanked Biden for showing "solidarity" after his election victory amid protests and rioting, going on to compare the attack on Brazil's National Congress by protesters earlier this year to the "Capitol invasion" in the United States on January 6, 2021.
The Brazilian leader also outlined several areas on which Brazil and the US could work together, including the preservation of democratic institutions, curbing climate change and fighting racial inequality.
After the meeting concluded, Lula told reporters that he would like to make efforts to end the conflict in Ukraine, calling to bring together a "group of countries that aren't directly or indirectly involved in the war… so that we can have a possibility to build peace."
"That is, I'm convinced that we need to find a way out to end this war," he continued, adding: "I found Biden shared the same concern."
While the two leaders did not publicly discuss the conflict raging in Eastern Europe on Friday, US National Security Council spokesman John Kirby appeared to throw cold water on Lula's peace talks proposal.
Asked about the idea during a press briefing, Kirby said an end to the fighting "doesn't appear to be in the offing," arguing that the US would have to "stay at the task of supporting Ukraine so that they can succeed at the battlefield."
"It's really up to President [Vladimir] Zelensky to determine if and when negotiations are appropriate and certainly under what circumstances," he said. "As President Biden has said countless times, 'Nothing about Ukraine without Ukraine.'"
Since taking office, Lula has declined to follow the US lead in supplying arms and other military hardware to Kiev, and previously voiced skepticism over the Western sanctions campaign targeting Russia's economy. During an interview with Time magazine last year, while he was still a front-runner in Brazil's presidential race, Lula said both Ukraine and Russia bore responsibility for the conflict, a view starkly at odds with Washington and its allies.
You can share this story on social media: