Brazil makes proposal on Ukraine peace talks
Countries should form a group dedicated to brokering negotiations between Moscow and Kiev, President Luiz Inacio Lula da Silva has said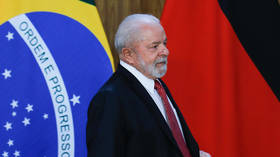 The world should form a club of countries focused on achieving a peace settlement between Russia and Ukraine, Brazilian President Luiz Inacio Lula da Silva said on Monday. He added that, unlike many Western nations, Brazil would not offer weapons to Kiev.
"It is necessary to constitute a group with enough strength to be respected at a negotiating table, and sit down with both sides," the president, who is commonly known just as Lula, stated. He was speaking in Brasilia, the nation's capital, after meeting with German Chancellor Olaf Scholz.
Lula mentioned the G20, an informal club of the world's biggest economies that began meeting regularly after the start of the 2008 financial crisis.
"We want to propose [a type of] a G20 to put an end to the Russia-Ukraine conflict."
"Brazil will make an effort," Lula declared, adding that he had discussed the matter with Scholz and French President Emmanuel Macron. He claimed he would also speak about the issue with US President Joe Biden, Chinese President Xi Jinping and other world leaders.
At the same time, the Brazilian president stressed that his country would not be sending weapons to Ukraine.
Brazil has no interest in passing on ammunition to be used in the war between Ukraine and Russia. Brazil is a country of peace. At this moment, we need to find those who want peace, a word that until now has been used very little.
Last week, Germany, together with the US and several other NATO members, pledged to provide Kiev with heavy armor for the first time. The Kremlin has maintained that the deliveries will only further escalate the conflict, and that Western tanks will "burn" on the battlefield.
Brazil also decided not to impose sanctions on Russia after Moscow launched its military operation in Ukraine last February. Lula's predecessor, former President Jair Bolsonaro, said at the time that restrictions imposed on Russia by the US and EU "did not work."
You can share this story on social media: