Ex-president's ally unveils plot to keep him in power
A Brazilian senator turns on Bolsonaro amid an insurrection probe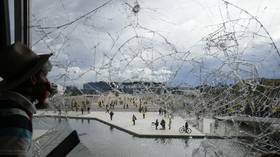 A Brazilian senator has claimed he was asked to participate in a conspiracy to overturn the 2022 election and "save Brazil." He rejected the offer and has now gone public with the alleged plot.
Senator Marcos do Val, once a loyal supporter of Brazil's Jair Bolsonaro, claimed that during a secret gathering of the ex-president's allies on December 9, Congressman Daniel Silveira asked him to secretly record Supreme Court Justice Alexandre de Moraes. The idea behind the plot was to catch the judge, who also runs Brazil's electoral authority, making compromising statements. This would be used, in theory, to arrest Moraes and subsequently invalidate the results of the 2022 presidential election.
Do Val apparently refused and instead revealed the plan to Moraes before eventually going public with the story Wednesday on Instagram live, describing the secret meeting as "a bizarre, immoral and even criminal action," according to Brazilian magazine Veja.
The senator revealed more information at a press conference on Thursday, clarifying that Bolsonaro himself "sat in silence" at the meeting, while Silveira explained the plot.
Silveira was arrested on Thursday under a warrant issued by Judge Moraes for disobeying court rulings regarding October's general election. Moraes also ordered Do Val to make a sworn testimony to federal agents.
Jair Bolsonaro has repeatedly claimed the 2022 election in Brazil, which Luiz Inácio Lula da Silva won by a narrow margin, was compromised. Refusing to concede defeat, he flew to Florida the night before his term in office ended on December 31, and has since reportedly sought a tourist visa to remain in the US for another six months.
The former president is under an ongoing investigation into whether he had any role in inciting an attempted coup on January 8. He has denied any role in riots in which his supporters breached Brazil's presidential palace, Congress, and Supreme Court, saying that he supports only peaceful demonstrations.
You can share this story on social media: