US shoots down 'high-altitude object' 
Debris fell into territorial waters off of Alaska, the White House has said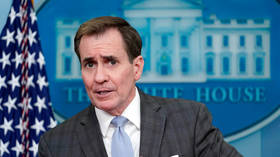 Fighter jets shot down an object in US airspace near Alaska, which was deemed a hazard to civilian air traffic, the White House said on Friday afternoon. National Security Council spokesman John Kirby did not say what the object was. The announcement comes just days after a Chinese "spy balloon" was shot down over the Atlantic.
"The Department of Defense was tracking a high-altitude object over Alaska airspace in the last 24 hours," Kirby said at the White House briefing. He added that the object was flying at 40,000 feet – approximately 12 kilometers – and "posed a reasonable threat to the safety of civilian flight."
On the Pentagon's recommendation and out of "abundance of caution," US President Joe Biden ordered the object shot down, Kirby said, adding that Northern Command had carried out the order "within the last hour."
The debris came down "inside our territorial waters," Kirby added.
Kirby described the object as "much, much smaller than the spy balloon" shot down last weekend, saying it was "roughly the size of a small car."
General Pat Ryder, the Pentagon spokesman, later said he had "no further details about the object at this time, including any description of its capabilities, purpose or origin." He did, however, call it a "balloon."
The announcement comes as Biden faced criticism over his response to the Chinese "spy balloon" last weekend. After the aerostat was spotted by civilians in the skies over Montana, the Pentagon declared it a Chinese surveillance asset – but declined to shoot it down until it crossed most of the continental US, citing potential risk to people on the ground. An F-22 eventually fired a missile at the balloon off the coast of South Carolina, and the navy was dispatched to retrieve the remains.
Beijing explained the object was a civilian weather balloon on a research mission that was blown off course by force majeure. After it was shot down, China condemned the "information warfare" by Washington and demanded the US return the debris as Chinese property.
Biden's critics objected that it took several days for the balloon to be destroyed, during which it could have spied on any number of things, from Americans' phone calls to nuclear missile silos.
Unnamed State Department officials told the media on Thursday the balloon had been equipped with advanced surveillance equipment "capable" of picking up sensitive communications.
US Secretary of State Antony Blinken postponed his planned trip to Beijing over the balloon incident and the White House vowed to retaliate against "China's surveillance program."
You can share this story on social media: