Details of Chinese 'spy balloon' emerge – WSJ
The downed craft was reportedly fitted with antennas that could collect communications, the outlet reports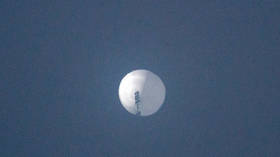 The alleged Chinese "spy balloon," shot down by the US off the coast of South Carolina last weekend, was equipped with advanced surveillance equipment capable of picking up sensitive communications, an unnamed senior State Department official told the Wall Street Journal on Thursday. The Biden administration is reportedly planning to retaliate.
While China has maintained the balloon was a civilian airship that drifted off course while collecting meteorological data, the source claimed its manufacturer had a "direct relationship" with the Chinese military. It was fitted with "large" solar panels to power the extensive instrumentation on board, which allegedly included antennas, sensors and other equipment capable of intercepting communications and gathering other intelligence.
The unnamed official said the US military spent the eight days the alleged spy craft was traversing the continental US gathering information about the device, using high-altitude U2 spy planes. Authorities are also reportedly examining the debris found floating in the Atlantic Ocean.
The House and Senate are set to be briefed by military, intelligence and diplomatic officials regarding the balloon on Thursday. The newly declassified information is meant to "justify the US's impending action" that President Joe Biden is preparing to take against "China's surveillance program," the outlet said.
Beijing uses similar balloons for surveillance across five continents, administration officials claimed on Wednesday. The Pentagon asserted that China had nearly doubled the size of its satellite fleet between 2018 and 2021 and now had 260 surveillance, intelligence and reconnaissance satellites monitoring the globe.
The balloon, which drifted over a nuclear missile site and other sensitive military assets, could have been carrying explosives in its multi-ton payload, US Northern Command Chief General Glen VanHerck told Politico on Monday, adding that several similar Chinese craft have flown over the US before, but the Pentagon somehow missed them.
Despite the apparent threat of explosives, the White House has said the military waited to destroy the balloon until it was over water, so as not to imperil any civilians or property with falling debris. Airspace over parts of North and South Carolina was closed, as fighter jets were finally sent to shoot it down on Saturday.
China's Foreign Ministry has demanded the return of what was left of the balloon, reminding Biden on Tuesday that "the airship does not belong to the US – it belongs to China."
In a symbolic rebuke of Beijing, the US House of Representatives passed a non-binding resolution condemning China's use of the balloon on Thursday, calling the incident a "brazen violation of United States sovereignty."
You can share this story on social media: