Trump regains control of his Facebook and Instagram accounts – media
The former president's reinstatement by two major social media platforms has reportedly gone into effect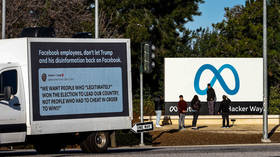 Donald Trump's stint in social media jail has come to an end, as the former president has reportedly been given back control of his Facebook and Instagram accounts more than two years after being booted from the platforms following the US Capitol riot.
Trump regained control of his accounts this week, multiple media outlets reported on Thursday. Meta Platforms Inc., the parent company of Facebook and Instagram, said last month that Trump's ban would be ending, given that he had declared his candidacy in the 2024 presidential election.
"The public should be able to hear what their politicians are saying – the good, the bad and the ugly – so that they can make informed choices at the ballot box," Meta said in a statement.
The company added that it had created "new guardrails" to deter repeat violations of its policies, including more severe penalties if Trump breaks its rules.
Trump had previously been reinstated by Twitter, meaning he's now essentially free to post content on all of the mainstream social media platforms. Billionaire Elon Musk, who acquired Twitter for $44 billion last October, invited Trump back to the platform in November. However, the former president hasn't resumed tweeting and has said that he doesn't see any reason to return amid the success of his own platform, Truth Social.
Trump's Facebook and Instagram accounts didn't have any new content posted as of Thursday afternoon. On Facebook, where he has 34 million followers, his last message was a January 6, 2021 plea for "everyone at the US Capitol to remain peaceful." His Instagram account has 23.4 million followers, while his still-idle Twitter account has 87.6 million. By comparison, he has fewer than five million followers on Truth Social.
Given the large reach of legacy social media platforms, Trump may be tempted to resume using them as the race heats up for the Republican Party's 2024 presidential nomination. However, his exclusive presence on Truth Social boosts the value of his own platform, potentially making his stake in the business worth billions of dollars. In fact, until June, he's contractually obligated to wait at least six hours after his Truth Social posts to send the same content on other platforms. That restriction doesn't pertain to political messaging, and he may choose not to renew the exclusivity agreement when it expires in June.
You can share this story on social media: