Meta to restore Trump's accounts
The former president was banned amid allegations that he "incited" the riot at the US Capitol in 2021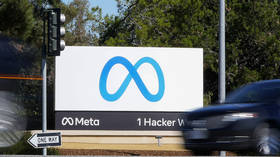 Meta has said it will reinstate former US President Donald Trump on both Facebook and Instagram, more than two years after he was kicked off the platforms, but stressed that it would create new "guardrails" for his account to prevent "repeat offenses."
The social media giant announced the move on Wednesday, saying the decision to ban Trump was made under "extraordinary circumstances" following the riot at the US Capitol building in January 2021. After finding there was no longer "serious risk to public safety," the company said Trump could return, but with a few caveats.
"We will be reinstating Mr. Trump's Facebook and Instagram accounts in the coming weeks. However, we are doing so with new guardrails in place to deter repeat offenses," Meta said in a statement, adding that "In light of his violations, he now also faces heightened penalties."
Under those restrictions, any "further violating content" will result in another ban for a period of one month to two years, the platform said. Content that does not explicitly violate the rules, but which "contributes to the sort of risk that materialized on January 6," including posts "related to QAnon," may also be limited in users' feeds.
According to documents seen by NBC, Trump recently filed a petition with Meta seeking to reinstate his accounts, weeks after declaring plans to run for president again in 2024. His campaign reportedly told the company that Trump's Facebook ban had "dramatically distorted and inhibited the public discourse," and asked for a meeting to discuss the issue.
While it's unclear if that meeting ever took place, in its statement announcing the end of Trump's suspension, Meta acknowledged that "the public should be able to hear from a former president of the United States, and a declared candidate for that office again," saying it did not want to "get in the way of open, public and democratic debate."
Trump made heavy use of social media during his successful 2016 presidential campaign, and continued to use his personal Twitter account for official announcements while in office. Though he was also banned from Twitter in the wake of the Capitol riot, he was allowed to return to the platform last November under its new owner, Elon Musk. The former president has not made any posts on his revived account, though a source close to Trump told NBC that his campaign advisers are currently brainstorming ideas for his comeback tweet.
You can share this story on social media: