US accused of waging 'information warfare'
Beijing has lashed out at Washington over its "irresponsible" response to the "spy balloon" incident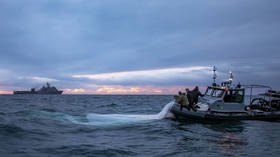 Washington's claims that China had targeted the US with an airship surveillance system are nothing but "information warfare," Chinese Foreign Ministry spokeswoman Mao Ning said on Thursday. The unmanned balloon's flight over the US and its subsequent downing last week intensified tensions between the two countries.
Mao claimed that accusing Beijing of running a network of spy airships over the US is "irresponsible" and part of "information warfare against China." The diplomat added that everyone knows which country has the largest spy and monitoring systems.
The statement came after the Pentagon claimed the downed airship was "part of a larger Chinese surveillance balloon program." This network was going on for "several years," Brigadier General Pat Ryder said during a briefing on Wednesday. White House spokeswoman Karine Jean-Pierre said on the same day that China had a "fleet of balloons developed to conduct surveillance operations…which have also violated the sovereignty of other countries."
Mao has insisted that the balloon was a civilian weather research airship that had veered off course and that Beijing had communicated its peaceful nature to Washington. The diplomat had previously claimed that the US was "deliberately hyping up the matter."
A Chinese unmanned airship was seen flying across the continental United States last week. The Pentagon immediately said China was "most certainly" using it to gather intelligence.
The "spy balloon" scandal caused US Secretary of State Anthony Blinken to cancel a planned visit to China. Last weekend, the US sent an F-22 fighter jet to destroy the balloon with a missile strike after it drifted off the coast of South Carolina. Beijing called the US decision to down the airship an "unacceptable and irresponsible" reaction.
You can share this story on social media: