Chinese 'spy balloon' potentially rigged to explode – Pentagon
The aircraft could have destroyed itself and its jetliner-sized payload if necessary, a top US general said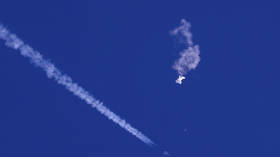 The alleged "Chinese surveillance balloon" shot down by the US on Saturday could have been carrying explosives to destroy itself and its cargo, US Northern Command Chief General Glen VanHerck told Politico on Monday. VanHerck also confirmed earlier reports that similar balloons have entered US airspace undetected before.
VanHerck told Politico reporter Lara Seligman that the balloon was up to 200ft (61 meters) tall, and carried a payload "in excess of a couple thousand pounds." The general added that the balloon potentially carried explosives "to detonate and destroy the balloon" if necessary.
The balloon was shot down off the coast of South Carolina on Sunday, a week after it entered US airspace. President Biden was briefed on the balloon's journey on Tuesday, the White House said, although Biden did not publicly acknowledge its existence until Thursday, a day after it had been seen in the skies above Montana by members of the public.
The President claimed that he initially ordered the balloon shot down above land, but that the Pentagon refused due to safety concerns.
China denied Washington's accusations of surveillance, calling the aircraft "a civilian airship used for research, mainly meteorological purposes." Beijing insisted that the balloon drifted off its planned course, and condemned the US for shooting it down.
VanHerck told Seligman that several balloons have flown over the US before, backing up reports in the US media on Sunday. According to anonymous government officials, one balloon crashed off the coast of Hawaii four months ago, while another passed through Florida and Texas during the presidency of Donald Trump.
Despite the US' enormous military budget, VanHerck said that "we did not detect those threats," calling the Pentagon's lack of knowledge a "domain awareness gap."
You can share this story on social media: