Minister impeached for first time in country's history
The South Korean parliament has pinned the blame for a crowd crush that killed 159 people on a key ally of President Yoon Suk-yeol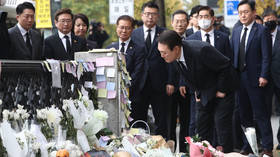 South Korea's interior and safety minister, Lee Sang-min, has become the first cabinet official in the country's history to be impeached, losing his job at least temporarily after the National Assembly on Wednesday voted to hold him responsible for the government's handling of a crowd crush that left 159 people dead last October.
The impeachment was approved by a 179-109 vote as the opposition-controlled legislature blamed Lee for alleged failures in disaster planning and response to the tragic Halloween stampede in Seoul's Itaewon entertainment district. As a result, he will be suspended from his duties until South Korea's Constitutional Court rules on whether to uphold the impeachment or give him back his job.
"It is very regrettable to cause concern to people due to the passage of an impeachment motion against me," Lee said in a statement. "I hope the state of vacuum in public safety, which would be brought about by this unprecedented incident, would be minimized." He will be replaced by Vice Minister Han Chang-seob until the court makes its ruling, which is due to be issued within 180 days.
The crowd crush occurred on October 29 as thousands of people jammed into the narrow alleyways of Itaewon's popular nightlife area to celebrate Halloween for the first time since such gatherings were barred under Covid-19 restrictions. A police investigation, released last month, found that local officials failed to employ proper crowd control measures and that a botched response contributed to the high number of casualties.
President Yoon Suk-yeol denounced the National Assembly for impeaching Lee, saying the decision "will go down in parliamentary history as a shame." The opposition Democratic Party (DP) said lawmakers carried out the "people's order" by impeaching the interior minister. "The National Assembly held Lee to account on behalf of President Yoon Suk-yeol because he refused to take responsibility," DP spokesman Oh Yeong-hwan said.
South Korean lawmakers have twice impeached presidents – Roh Moo-hyun in 2004 and Park Geun-hye in 2016. The Constitutional Court rejected Roh's impeachment and approved the ouster of Park, who was later convicted of bribery and abuse of power.
As in the Itaewon case, public anger against high officials was sparked by the handling of a tragedy. In 2014, the triggering event was the sinking of the Sewol ferry, which killed 299 people. Most of the victims were high school students who were on a field trip.
You can share this story on social media: