Multiple 'Chinese spy balloons' entered US before recent incident – media
One crashed off the coast of Hawaii four months ago, while another traversed Texas and Florida years ago, sources told Fox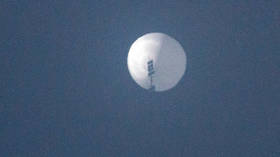 More than one "Chinese spy balloon" has traveled through US airspace in the months and years preceding the most recent encounter, official sources told Fox News on Sunday. This counters claims by former President Donald Trump that his administration would never have permitted such a thing.
One balloon reportedly crashed into the Pacific Ocean off the coast of Hawaii four months ago, while another passed through Florida and Texas during the presidency of Trump, the sources claimed. Another source told Fox of four such incidents preceding the current one.
The unnamed officials' claims backed up statements from the administration of President Joe Biden that Chinese surveillance balloons had traveled across the continental US at least three times under Trump. Responding to those claims, the former president insisted that "this never happened. It would have never happened" and accused the White House of spreading "disinformation" to distract from its own "incompetent" behavior.
"It never happened with us under the Trump administration and if it did, we would have shot it down immediately," he told Fox News on Sunday.
However, a senior administration official countered that "US intelligence, not the Biden administration," believed "PRC government surveillance balloons transited the continental US briefly at least three times during the prior administration and once that we know of at the beginning of this administration, but never for this duration of time."
The previous balloon crossings "went undetected," the source told Fox on Sunday, describing it as "part of a larger pattern."
"These balloons are all part of a PRC fleet of balloons developed to conduct surveillance operations, which have also violated the sovereignty of other countries," the official claimed, blaming the People's Liberation Army for the intrusive airships.
Biden has come under fire from political rivals for his perceived delay in having the "spy balloon" shot down. Seven full days after it was initially spotted drifting through US airspace, the balloon – which China has maintained was a civilian airship conducting meteorological research that drifted off course – was shot out of the sky off the coast of South Carolina on Saturday. Beijing condemned the "obvious overreaction" as a "serious violation of international practice," warning that it "reserv[ed] the right to take further actions in response."
You can share this story on social media: