Germany considers diverting 'green' subsidies to arms production – Bloomberg
The move would allow more weapons and ammunition to be manufactured for the Ukraine conflict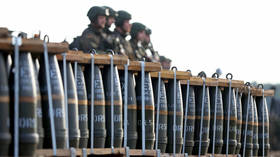 Germany may use funds intended for the phasing out of coal-fired power plants to help defense companies build additional production facilities, Bloomberg reported on Friday, citing people familiar with the matter.
According to the report, the measure is being discussed between the government in Berlin and regional authorities in Germany's individual states. The move would allow manufacturers to make more weapons and ammunition, as well as create jobs in the areas worst affected by the shift from coal.
It comes as Western countries are ramping up military aid to Kiev. Germany pledged last month to deliver Leopard 2 main battle tanks and Marder armored vehicles to Ukraine.
Berlin also allowed companies this week to transfer the older Leopard 1 tanks.
However, according to multiple reports, the efforts to assist Kiev and ensure that the Bundeswehr remains combat-ready have been impeded by munitions and equipment shortages. Business Insider cited defense industry and parliamentary sources in October as saying that the army had enough ammunition for only one or two days of warfare.
The continuing energy crisis prompted Germany to relaunch several reserve coal-fired plants last year. The government has also extended the operation of existing plants up to the end of March 2024. The decisions came as Berlin was looking for ways to conserve energy during winter.
In June, the German Economy Ministry said that, despite concerns over energy supplies stemming from the Russia-Ukraine conflict, Germany would stay committed to phasing out coal as a power source by 2030.
You can share this story on social media: