Germany approves retired tanks for Ukraine
The green light comes after newer versions of battle tanks were approved for export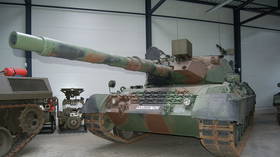 Berlin has given German defense industry companies permission to export older Leopard 1 tanks to Ukraine, local media reported on Friday, citing government spokesman Steffen Hebestreit.
The official confirmed to journalists that a relevant export license was granted, without providing any further details.
"I do not want to say much more at the moment," Hebestreit told journalists during a government press conference on Friday, according to Der Spiegel weekly. The official also said that further clarifications on the issue would be provided "within the coming days or weeks."
Rheinmetall, one of Germany's top arms manufacturers, suggested sending Leopard 1 tanks from its stocks to Ukraine as early as April 2022. At the time, the company stated it could supply up to 50 tanks to Ukraine within just six weeks if granted the government's approval. The company also added that it was still checking on the condition of the tanks at the moment.
In mid-January, Rheinmetall CEO Armin Papperger told the tabloid Bild that it would take a long time to prepare the Leopard 1 tanks for potential export to Ukraine even if the company got a relevant license "tomorrow." The tanks were "completely disassembled and built anew," he said. According to Papperger, the delivery might take up to a year.
Der Spiegel reported on Friday that there were 29 Leopard 1 tanks largely ready for delivery, which were being stored by another defense manufacturer – the Flensburger Fahrzeugbau Gesellschaft (FFG). However, both Der Spiegel and SZ newspapers cited a lack of ammunition for the tanks in connection with the potential delivery.
Both Rheinmetall and FFG said they could potentially supply dozens of Leopard 1 battle tanks to Ukraine, but only if Kiev was willing to buy them, SZ reported. Earlier, Rheinmetall said that overhauling the heavy equipment would cost hundreds of millions of euros – a cost it could not cover on its own.
Earlier, Berlin also vowed to send 14 modern Leopard 2 main battle tanks out of the army's stockpiles to Ukraine. Moscow has repeatedly criticized the West for supplying weapons to Ukraine, arguing that they only served to prolong the conflict and human suffering.
You can share this story on social media: