German arms manufacturer weighs in on tank deliveries to Ukraine
The CEO of Rheinmetall has said that Leopard tanks cannot be provided to Kiev in 2023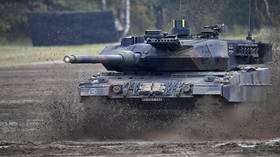 German arms manufacturer Rheinmetall would not be able to supply Leopard tanks to Ukraine in 2023 even if the authorities in Berlin gave the green light right now, CEO Armin Papperger has told Bild newspaper. He explained that the hardware would need to undergo a thorough overhaul first.
Kiev has long demanded that its supporters provide it with Western-made tanks, including the Leopard. Pressure has been mounting on Berlin to authorize shipments or at least allow third countries to re-export their own stocks. Chancellor Olaf Scholz's government has, however, so far refused to give in to the demands.
In an interview with Bild published on Sunday, Papperger said that Rheinmetall currently has 22 Leopard 2 and 88 Leopard 1 tanks. He stressed, however, that the vehicles are in need of repairs, and that this would cost hundreds of millions of euros – an undertaking the arms manufacturer cannot finance on its own.
When asked how long the overhaul would take, Papperger said the repairs would involve far more than a new coat of paint.
"[The tanks] are completely disassembled and built anew."
He added that, "even if the decision comes tomorrow that we can ship our Leopard tanks to Kiev, the delivery will not take place before the start of the next year."
He also revealed that his company has hired 1,200 more employees since the start of the Russian military operation in Ukraine in late February 2022. However, Papperger refused to be characterized as a war profiteer, arguing that Rheinmetall is rather a "crisis helper."
On Saturday, Britain pledged to provide Kiev with UK-made Challenger tanks, becoming the first nation to make such a commitment.
While Poland and Finland have also said they are prepared to supply German-made Leopard 2 tanks from their own stocks, Berlin has yet to authorize the shipments.
On Friday, German government spokesperson Christiane Hoffmann warned that any attempt to hand over the hardware to Ukraine without her country's consent "would be illegal."
Russia has repeatedly warned Western countries against shipping weaponry to Ukraine, arguing that doing so will only serve to prolong the conflict.
On Tuesday, Kremlin spokesperson Dmitry Peskov, commenting on the continued arms supplies, said that NATO and the US are "definitely taking part in this conflict, although indirectly, by proxy."
You can share this story on social media: