UK PM confirms tank shipment to Ukraine
Rishi Sunak has pledged the British-made armor and "additional artillery systems" to Kiev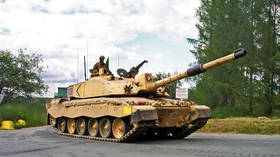 Britain will supply Kiev with Challenger 2 tanks, Prime Minister Rishi Sunak vowed during a phone call with Ukrainian President Vladimir Zelensky on Saturday. The move will make the UK the first country to ship Western-made tanks to Ukraine.
According to a press release published by the PM's office following the call, Sunak and Zelensky concurred "on the need to seize on this moment with an acceleration of global military and diplomatic support to Ukraine."
The British prime minister made it clear that London will provide Kiev with "Challenger 2 tanks and additional artillery systems." The two leaders also welcomed "commitments in this vein" made by other European nations, such as Poland.
On Friday, The Guardian, citing Ukrainian sources, reported that 10 Downing Street was preparing to issue a formal announcement on Monday of plans to deliver tanks.
According to the sources cited by the newspaper, the number of units the UK is allegedly prepared to donate – just ten – would probably not have much of an impact on the battlefield dynamics. The move, however, would likely help push Germany into allowing its European allies to export their stocks of Leopard tanks to Ukraine, the paper claimed at the time.
Poland and Finland signaled their readiness earlier this week to send the hardware if Berlin gives the green light, and if they would not be in the position of taking the step alone. Germany, however, has so far not authorized re-exporting the tanks.
On Friday, a deputy government spokeswoman for the German government, Christiane Hoffmann, warned that delivering Leopards to Ukraine without Berlin's authorization "would be illegal." The official expressed confidence that the tanks' European operators would adhere to these rules.
Russia, meanwhile, has repeatedly warned Western countries against sending weapons to Ukraine, arguing that doing so would only serve to prolong the conflict.
On Tuesday, Kremlin spokesperson Dmitry Peskov, commenting on the continued shipments of arms, accused NATO and the US of "definitely taking part in this conflict, although indirectly, by proxy."
You can share this story on social media: