Erdogan comments on tanks for Ukraine
The "risky" move will only enrich arms dealers, the president of Türkiye said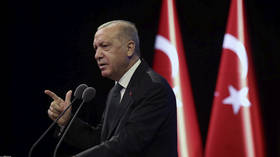 The decision by some NATO countries to send tanks to Ukraine is a high-risk move that probably won't help end the conflict, Turkish President Recep Tayyip Erdogan said on Wednesday.
"I personally can't say that sending tanks will resolve this issue," Erdogan told the state broadcaster TRT when asked about the tanks. "This is a high-risk endeavor and will only line the pockets of gun barons."
Türkiye will continue the talks with both Russia and Ukraine in an effort to find a negotiated settlement, Erdogan added.
Earlier in the day, Spain announced it would send at least six Leopard 2A4 tanks to the government in Kiev, and needed to consult with the Spanish military industry about the possibility of sending more.
Türkiye's President Erdogan on war in Ukraine:- Talks with leaders of Ukraine & Russia continue & will continue for lasting peace- Sending tanks & weapons would not fix issue & will only fill pockets of weapon producers pic.twitter.com/AxtNxl14Yj

— TRT World (@trtworld) February 1, 2023
After weeks of resisting demands by Ukraine, Poland and several other countries to approve the delivery of German-developed Leopards, the government in Berlin relented last week. Germany pledged 14 Leopard 2A6 tanks from the Bundeswehr's own stocks, while an additional 51 of the same model and 88 of the older model 1 may come from Rheinmetall as they get refurbished.
The Russian embassy in Berlin said that Chancellor Olaf Scholz's "extremely dangerous decision" has escalated the conflict in Ukraine and represents "the final rejection of Germany's historical responsibility to the Russian people," referring to the outcome of the Second World War.
The US has also promised between 30 and 50 of its M1 Abrams tanks, but it was unclear how soon they may be ready for delivery. Poland indicated on Wednesday it wished to fast-track the training of Ukrainian tank personnel, with only a five-week crash course.
Moscow has repeatedly urged the West against sending weapons to Ukraine, arguing that it would only lead to more bloodshed and not change the outcome of military operations. The Kremlin said that providing heavy tanks to Kiev was proof of NATO's "direct involvement" in the conflict and warned that they "will burn like the rest" of Western-supplied weapons.
You can share this story on social media: