US denies misuse of Ukraine aid
Washington will continue working with Kiev and others to tackle corruption in the country, the Department of the Treasury has stated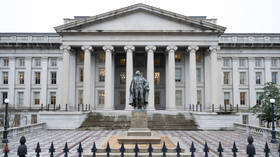 The US Treasury Department has said there are no indications that money provided to Kiev by Washington is being misused amid the country's conflict with Russia.
Reuters raised the issue on Tuesday in the wake of a corruption scandal in Ukraine last week, which resulted in the dismissal of several high-ranking officials. These included the deputy head of President Vladimir Zelensky's office, several deputy ministers and heads of regional administrations, as well as Deputy Prosecutor General Aleksey Simonenko.
"We have no indication that US funds have been misused in Ukraine," stated Treasury spokesperson Megan Apper. "We welcome the ongoing efforts by the Ukrainian authorities to work with us to ensure appropriate safeguards are in place so that US assistance reaches those for whom it is intended."
However, Apper pointed out that Washington would continue working with the World Bank to track US financial aid packages "to confirm that they are used as intended, as well as with Ukraine and other partners to tackle corruption."
US lawmakers on both sides of the aisle previously praised the Kiev government for carrying out the purge. Republican Senator Lindsey Graham said it was "a defining moment for Ukraine," while his Democratic counterpart Richard Blumenthal described the dismissals as proof that Zelensky was serious about keeping his promise that "there will be zero tolerance of fraud or waste."
Democratic Senator Jeff Merkley expressed concern during a hearing on Thursday that corruption in Ukraine could be "a kind of cancer eating away at support that they need from everyone in the world," but Under Secretary of State for Political Affairs Victoria Nuland assured him that this would not happen.
In a video address on Wednesday, Zelensky warned that the wave of dismissals among the country's top officials was not finished.
"Now there is a certain lull in personnel decisions. But it doesn't mean that all the necessary steps have already been taken. There will be more decisions. Those in the system who don't meet the fundamental requirements of the state and society shouldn't get used to their chairs," he said.
On Monday, RBC-Ukraine news agency reported, citing unnamed sources, that eight ministers in the Ukrainian government were at risk of losing their jobs and could well be shown the door later this month.
You can share this story on social media: