US to arm Ukraine with 'longer-range' missiles – Reuters
Washington is reportedly preparing a new $2 billion aid package, including munitions that can strike deep in Russian territory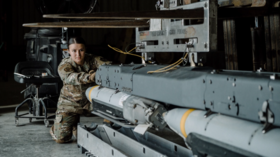 President Joe Biden's administration has reportedly decided to send longer-range rockets to Ukraine, giving Kiev's forces the capability to hit targets farther behind the frontlines, just as a top Ukrainian intelligence official threatened more strikes deeper inside Russia.
The gift of Ground Launched Small Diameter Bomb (GLSDB) rocket artillery munitions with a range of 150 kilometers (94 miles) will be part of an upcoming military aid package for Ukraine valued at more than $2 billion, Reuters reported on Tuesday, citing two unidentified US officials familiar with the plans. The package will also include additional Javelin anti-tank weapons, mine-resistant vehicles, multiple-launch rocket systems (MLRS), and support equipment for Patriot air defense systems.
The GLSDB rockets will give Ukrainian forces further reach, nearly doubling the range of the MLRS and HIMARS munitions that Washington and its NATO allies have previously been provided. Biden had been reluctant to send weaponry that could strike Russian soil, risking escalation into a wider conflict with Moscow, but he has authorized increasingly provocative aid in recent weeks.
Washington approved plans to send M1 Abrams tanks to Kiev last week, even after Biden initially claimed back in March that the US wouldn't provide tanks or planes saying, "That's called World War III." While the US-made tanks are expected to be delivered to Ukraine by the end of this year or even in 2024, the first batch of previously approved 60 Bradley Fighting Vehicles is already en route, US Transportation Command confirmed on Monday.
The GLSDB is being developed by US defense contractor Boeing Co. under plans to quickly get new weapons into production for Kiev. It combines the GBU-39 small diameter bomb with the M26 rocket motor, both of which can be drawn from existing US weapons stocks. Washington will reportedly stop short of fulfilling Ukrainian President Vladimir Zelensky's oft-repeated requests for the MGM-140 Army Tactical Missile System (ATACMS), which has a range of some 300 kilometers, double the GLSDB's reach.
While US officials have claimed that they don't intend for weapons given to Ukraine to be used for strikes into Russian territory, Kiev's forces appear to have no compunction about such attacks. US State Department spokesman Ned Price reiterated Washington's stance earlier this month that Kiev is free to select its own targets, including in Crimea, which he claimed is still Ukrainian territory.
Ukrainian intelligence chief Kirill Budanov vowed on Tuesday that "until the territorial integrity of Ukraine is restored, there will be problems inside Russia." He also said Kiev aims to retake Crimea by this summer.
The Kremlin has insisted that any threats to Russian territory, including Crimea and the territories that voted to join Russia in September, will result in the use of "more powerful weapons" by Moscow. Duma chairman Vyacheslav Volodin warned earlier this month of possible "global tragedy" for humanity if Western nations continue to provide weapons that Kiev could use to strike civilian cities and attempt to seize Russian territories.
You can share this story on social media: