US encouraging terrorist acts against Russia – ambassador
Moscow said it will not tolerate strikes on its soil after US officials declared that "Crimea is Ukraine"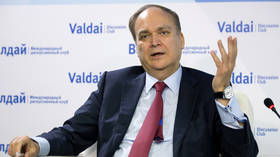 Russia's Ambassador to the United States Anatoly Antonov has warned against future Ukrainian attacks on the Crimean Peninsula, insisting his country would respond with force after Washington suggested Kiev may employ its Western arms to attack the region.
Asked to comment on recent remarks from US State Department spokesman Ned Price, who insisted Crimea is still Ukrainian territory despite Russia's control over the area for the better part of a decade, Antonov warned against "militant" rhetoric from the United States, saying it only risks further escalation.
"The State Department, through out-of-touch assertions that 'Crimea is Ukraine' and that the Armed Forces of Ukraine can use American weapons to protect their territory, is essentially pushing the Kiev regime to carry out terrorist attacks in Russia," the envoy said on Wednesday night. "Hearing such remarks from Washington, the criminals in Kiev will once again feel complete permissiveness. The risks of conflict escalation will only increase."
During a press briefing earlier on Wednesday, Price was questioned about whether Washington had ever placed "limits" on Ukrainian strikes, maintaining that the US is "of course not making targeting decisions on behalf of our Ukrainian partners" and that "these decisions are up to them." He said Kiev is free to select its own targets, including in Crimea, which he argued "is Ukraine" – reiterating Washington's refusal to accept Moscow's claim to the region.
The spokesman's comments followed a New York Times report indicating that the White House is increasingly willing to help Kiev to strike the peninsula, citing a number of unnamed US officials. President Joe Biden, however, is reportedly still refusing to provide the long-range missiles needed for a full-on attack, instead hoping that lighter arms and vehicles might suffice for a major counteroffensive.
Antonov went on to say that no amount of Western aid would stop Moscow's military operation, arguing "we will destroy any weapons supplied to [President Vladimir] Zelensky's regime by either the United States or NATO."
"Is it really incomprehensible to anyone else that pumping weapons into Ukraine, be it American or other NATO countries, will only lead to an increase in civilian casualties and create additional difficulties in the former Soviet republic?" he added.
Crimea held a referendum to reunify with Russia in 2014, after Ukraine's Euromaidan revolution and the overthrow of the country's elected leader, Viktor Yanukovich. The region is historically Russian territory and has served as the headquarters for Moscow's Black Sea Fleet since the late 18th century, though was transferred to Kiev's administrative control in 1954 under Soviet rule. Along with Washington, Ukraine's Western backers have declined to recognize Russian control of the peninsula.
You can share this story on social media: