Pentagon chief makes nuclear pledge to Asian ally
Washington and Seoul will conduct "tabletop exercises focused on nuclear threats"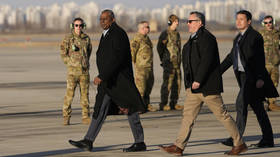 US Defense Secretary Lloyd Austin has reaffirmed Washington's "ironclad" commitment to South Korea, promising to deploy the full range of US conventional and nuclear military capabilities if needed to deter what he described as increasingly "destabilizing" actions by North Korea.
In an editorial published by Yonhap news agency on Tuesday amid his third visit to Seoul as US defense chief, Austin claimed that only the presence of thousands of American troops and the "most advanced" military assets has ensured seven decades of peace on the peninsula – and said the sides are constantly exploring ways to boost their "deterrence activities."
"That is why we are expanding the scope and scale of our combined exercises… It's why we're incorporating live-fire elements, which will increase our interoperability and readiness to 'Fight Tonight' if necessary," Austin wrote.
"We are committed to doing even more, including increasingly complex scenario-based tabletop exercises focused on nuclear threats on the peninsula and visits to US strategic sites housing our most advanced capabilities to demonstrate the role these capabilities may play in crisis or conflict," he added, providing no time frame for the drills.
The US maintains a force of around 28,500 soldiers in South Korea and holds regular drills with Seoul, which have been denounced by Pyongyang as "provocations" and "rehearsals" for a potential invasion. Last year, North Korea stepped up its missile tests and has enshrined the use of nuclear weapons into national law.
Austin claimed that Pyongyang's military activities only further prove the need to "remain vigilant" and increase joint exercises not only with Seoul but also with Tokyo, and warned all regional "adversaries and competitors" that "if they challenge one of us, they are challenging the... alliance as a whole."
South Korean President Yoon Suk-yeol said earlier this month that his country "may deploy tactical nuclear weapons or come to possess its own nuclear weapons" in a short time if "the [North Korean nuclear] problem becomes more serious."
Yoon later walked back the remark, saying that Seoul is still committed to the non-proliferation of nuclear weapons, and that he was "fully confident about the US's extended deterrence," a policy under which Washington provides South Korea with a "nuclear umbrella" to defend it against military threats.
You can share this story on social media: