US ally walks back nuclear remarks
South Korean President Yoon Suk-yeol had said his country might obtain its own atomic weapons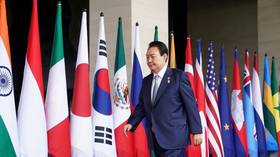 South Korea is still committed to the non-proliferation of nuclear weapons, President Yoon Suk-yeol insisted on Thursday. Earlier this month he had asserted that Seoul could acquire its own arsenal if the North continued developing its own atomic force.
Yoon assured the Wall Street Journal that South Korea's "realistic and rational option is to fully respect the NPT regime," referring to the landmark 1968 Treaty on the Non-Proliferation of Nuclear Weapons, which seeks to prevent the spread of nuclear arms and relevant technologies.
The president also noted that he was "fully confident about the US's extended deterrence," a policy under which Washington provides South Korea with a "nuclear umbrella" to defend it against military threats.
By reiterating commitment to the NPT regime, Yoon stepped back from his statement of last week, when he said that South Korea "may deploy tactical nuclear weapons or come to possess its own nuclear weapons" in a short time if "the [North Korean nuclear] problem becomes more serious." Later, his office clarified that he did not actually have plans to do so.
When asked to comment on those remarks from Yoon, US National Security Council spokesman John Kirby referred to the later clarification, adding that Washington and Seoul are seeking to improve extended deterrence capabilities.
The South Korean leader also told the Journal that Seoul was "preparing a stronger joint planning and joint execution in operating the US nuclear assets on the Korean Peninsula."
Earlier this month, Washington and Seoul voiced conflicting positions on joint nuclear exercises. While Yoon Suk-yeol said that the two countries were in "talks on joint planning and exercises involving US nuclear assets to counter North Korea's nuclear threats," President Joe Biden denied that claim.
Washington withdrew nuclear weapons from the Korean peninsula in 1991 as part of its global nuclear arms reduction efforts.
Speculation increased about South Korea possibly acquiring a nuclear arsenal after the North intensified its test missile launches, with US officials warning that Pyongyang might also test another nuclear weapon.
North Korea insists that its launches are a response to US-South Korean drills, which it views as a national security threat.
You can share this story on social media: