White supremacy blamed for beating of black man by black police
"I'm about to educate some people right now," lawyer declared before making claim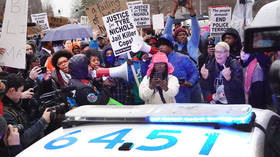 A British political activist has concluded that white supremacy was the root cause of Tyre Nichols' death, despite the fact that the police officers involved were all black and worked for a black police chief.
"The vicious, brutal, unjustified, extrajudicial killing of Tyre Nichols is as a result of a police system that's built on white supremacy," London-born lawyer Shola Mos-Shogbamimu told Sky News in an interview on Monday. "White supremacy underpins the policing and criminal justice system, both in the United States and the United Kingdom. It shapes the culture that sees black people as less, treats black lives as disposable, and ensures that black lives don't matter."
As host Kay Burley began to point out that the officers charged with Nichols' murder were black, Mos-Shogbamimu said, "I'm about to educate some people right now." She likened the Nichols incident to the May 2020 death of George Floyd, which sparked violent Black Lives Matters protests across the US and Europe.
After Burley noted that Nichols' mother said she hoped her son's death would lead to change, the activist said, "Between George Floyd and today, nothing has changed. I very much doubt that anything will change until we eradicate the source of this problem, which is white supremacy."
Those who suggest that an incident involving only black people wasn't related to white racism are simply uneducated, Mos-Shogbamimu said. "There is a systemic reality of white supremacy that produces racist white cops and racial-gate-keeping black and brown cops." She added, "Black and brown racial gate-keepers exist in policing, exist in our health care system, in our politics. They exist everywhere. Their point is to represent white supremacy."
Some US commentators, such as CNN's Van Jones and US Representative Maxwell Frost, a Florida Democrat, have made similar claims. RowVaughn Wells, the mother of Tyre Nichols, said the officers involved in her son's murder "shamed" their communities. "I hate the fact that it was five black men that actually did this to another black man," she told MSNBC.
The Sky News interview was quickly panned by critics. UK media personality Piers Morgan called the claims "unbelievable," adding, "Race-baiting liars like Dr. Shola do enormous damage to the cause of racial equality."
You can share this story on social media: