US city disbands police unit involved in fatal beating
Five former members of the 'Scorpion' team in Memphis have been charged with the murder of Tyre Nichols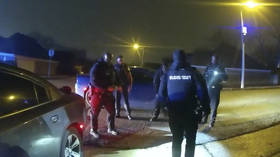 The Memphis Police Department has disbanded a controversial street crime unit whose officers beat 29-year-old Tyre Nichols to death earlier this month. The alleged murder of Nichols set off a wave of protests in the crime-ridden city.
"It is in the best interest of all to permanently deactivate the Scorpion unit," Police Director Cerelyn Davis said in a statement on Saturday. Davis added that the officers of the unit agreed "unreservedly" with her decision.
Davis' announcement came a day after the city of Memphis released body camera footage showing the death of Nichols. Five officers can be seen punching and kicking the man, as well as pepper-spraying and striking him with batons. Nichols attempted to flee after he was dragged from his vehicle at a traffic stop. After his motionless body was handcuffed and propped against a squad car, the officers are seen congratulating each other and exchanging fist-bumps.
Nichols died in a hospital three days after the incident, and the officers involved have been fired and charged with second-degree murder, aggravated assault, aggravated kidnapping, official misconduct, and official oppression. All five officers and Nichols are black.
An internal investigation found that the officers "violated multiple department policies, including excessive use of force, duty to intervene, and duty to render aid," Davis said in a statement last week.
The Scorpion unit, which stands for 'Street Crimes Operation to Restore Peace in Our Neighborhoods', was formed in November 2021. Its 40 or so officers were tasked with patrolling "high crime hotspots" in the city, with a particular focus on gang- and drug-related crimes.
Memphis has one of the highest crime rates in the US, and regularly tops lists of the country's most dangerous cities.
The Scorpion unit made more than 550 arrests in its first two months of operation, 390 of them for felonies. Its officers seized more than 250 weapons and over $100,000 in illicit cash in that period, Memphis Mayor Jim Strickland stated in a speech last January. However, allegations of brutality dogged the unit from the outset, with an attorney for the Nichlols family telling reporters on Friday that he had compiled testimony from multiple people who claimed to have suffered physical injuries at the hands of Scorpion officers.
Protesters shut down a bridge in Memphis on Friday, chanting "Justice for Tyre." At another demonstration on Saturday, the crowd reportedly cheered as the disbandment of the Scorpion unit was announced.
You can share this story on social media: