Britain reveals Ukraine tank delivery timeline
The Challengers will arrive on the battlefield "this side of summer," the defense minister said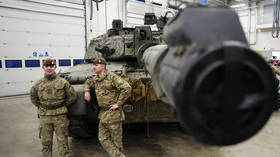 Ukraine will receive 14 Challenger 2 main battle tanks from the UK before the summer, Defense Minister Ben Wallace told Parliament on Monday. This timeline means the Challengers will likely arrive after Germany's Leopard tanks reach the battlefield amid Kiev's hostilities with Russia.
Asked when the tanks would be deployed in Ukraine, Wallace told lawmakers "It'll be this side of the summer, or May – it'll be probably towards Easter time." For Western Christians, Easter Sunday falls on April 9 this year.
Wallace said that he could not provide further information on the training process for the tanks' Ukrainian operators. Kiev's ambassador to the UK, Vadim Pristaiko, told Ukrainian media last week that this process "will not take much time."
Wallace's timeline is close to that provided by Alex Chalk, the Defense Ministry minister of state, who said last week that the Challengers should be deployed "at the end of March."
The UK announced that it would send the Challengers nearly two weeks before Germany confirmed it would donate an equal number of Leopard 2 tanks. However, the German armor will likely reach Ukraine just before its British equivalents, with Berlin stating on Thursday that its tanks would arrive by the end of March or beginning of April.
Germany also granted other European countries permission to ship their own fleets of Leopards to Ukraine. Poland, which had threatened to send the tanks with or without Berlin's permission, will deliver around 14 Leopards "within a few weeks," Deputy Defense Minister Wojciech Skurkiewicz told local media on Thursday.
The last heavy Western armor to reach Ukraine will be the US' M1 Abrams tanks, the deliveries of which were announced by Washington alongside Germany's Leopards. The announcement came despite earlier statements from the Pentagon that the Abrams tanks are too complex to maintain and consume too much fuel for use in Ukraine. According to recent reporting by the Washington Post, the tanks were only offered as "cover" for Germany to send the Leopards, and will not arrive until the end of the year at the earliest.
Russia has maintained that foreign weapons, including heavy tanks, will not change the course of the conflict. "As we said in the past, these tanks will burn just like the rest. They just cost a lot [to make]," Kremlin spokesman Dmitry Peskov said on Wednesday, referring to the Abrams specifically.
You can share this story on social media: