Russian governor puts bounty on Western tanks
Soldiers can earn up to $43,000 for capturing a working Leopard main battle tank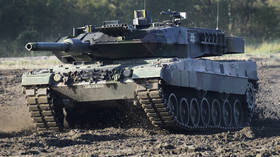 The governor of Zabaikalsky Region in eastern Russia has offered soldiers from the province a chance to earn bounties on NATO tanks that are captured or destroyed in Ukraine. The governor's announcement came as a private company offered a similar reward for captured Western-made armor.
In an order signed on Friday, Governor Alexander Osipov declared that any local soldier who managed to seize a Leopard tank "in working condition" could earn 3 million rubles ($42,909). A bounty of one million rubles ($14,303) will be paid to anyone who destroys one of these German tanks, while those assisting with a successful capture will be paid $7,150 and those assisting in the destruction of a Leopard will earn $2,240.
A sum of 1.5 million rubles ($21,450) will be paid for the successful capture of an American M1 Abrams tank, with destruction paying 500,000 rubles ($7,150). As with the Leopards, smaller bounties are offered to assisting soldiers.
Osipov's order ended with a warning that soldiers seeking out tanks to destroy or capture should first and foremost work to "preserve their life and health."
Berlin announced last week that it would supply Kiev's forces with 14 Leopard 2s, and would give other European countries permission to export their own stocks of these tanks to Ukraine. Chancellor Olaf Scholz stated that Germany and its partners were looking to supply 112 tanks in total.
The US pledged 31 Abrams tanks but – having apparently promised to give Germany "cover" to send the Leopards – reportedly won't be able to deliver these high-maintenance behemoths to the battlefield until at least the end of 2023.
Russian chemical firm Fores has offered a similar bounty to Osipov's. In a statement on its website on Friday, the company said that it would pay 5 million rubles ($70,700) to any Russian serviceman who destroyed or captured either kind of tank, with 500,000 rubles ($7,070) offered for subsequent trophies.
Moscow's position is that foreign weapons deliveries show NATO's "direct involvement" and will only prolong the conflict in Ukraine. Western tanks, Kremlin spokesman Dmitry Peskov said earlier this month, "can burn and they will burn like the rest [of the Western weapons]."
You can share this story on social media: