Creators defend failed Russiagate platform
Hamilton68 was no list of Moscow-backed opinion leaders, but a "nuanced" tool misunderstood by journalists, its founders now claim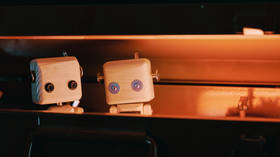 The US think tank Alliance for Securing Democracy (ASD) sought to clarify its activities on Friday, after internal Twitter messages published the same day by journalist Matt Taibbi called into question the accuracy of its "Russian bot" dashboard, Hamilton68.
The released communications show employees knew many of the listed accounts on the dashboard were neither Russians, nor bots. ASD is now seeking to recast Hamilton68 as a "nuanced" tool misinterpreted by reporters.
The creators of the dashboard, which once claimed to track over 600 Kremlin-linked accounts to provide the West with an authentic window on Russian "influence operations," published a statement on Friday insisting Hamilton68 never pretended the accounts it monitored took their orders from Moscow – only that they were "wittingly or unwittingly" amplifying Russian narratives.
Advised by a bipartisan panel consisting of Weekly Standard editor and Iraq war proponent Bill Kristol, Hillary Clinton campaign chair John Podesta, and former US ambassador to Russia, Michael McFaul, the ASD launched the dashboard in 2017 "to track Russian disinformation on Twitter," according to its website. Hamilton68's primary architect, former FBI agent Clint Watts, admitted the following year he was "not convinced on this bot thing."
The group blamed "members of the media, pundits and even some lawmakers" for failing to include the necessary context explaining that Hamilton68's conclusions weren't drawn from real Russian bots, even though its own advisory committee members are on record in 2017 claiming "Moscow used [the accounts included in Hamilton68] to discredit the FBI…to attack ABC news…to critique the Obama administration...and to warn about violence by immigrants."
Internal messages between Twitter employees published by Taibbi revealed that the social media platform's executives had analyzed Hamilton68's list of 644 putative Russian bots back in 2017, only to find "these accounts are neither strongly Russian nor strongly bots," in the words of Twitter Trust and Safety chief Yoel Roth.
Roth recommended Twitter "just call this out on the bulls*** it is" as "virtually any conclusion drawn from [the dashboard] will take conversations in conservative circles on Twitter and accuse them of being Russian."
However, he was discouraged from calling out the group by Twitter's head of global policy communication, Emily Horne, who reminded him "we have to be careful in how much we push back on ASD publicly."
You can share this story on social media: