Documents reveal how 'Russiagate' was used for Twitter censorship
Democrats threatened regulation and leaked to the press to pressure the platform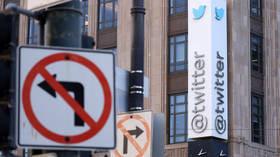 Internal documents from Twitter made public on Tuesday show how the social media platform was pressured to follow the US intelligence community's lead on censorship back in 2017. Key Democrats in the US Congress, a British university, and two media outlets – Politico and BuzzFeed – played a major role in constructing and amplifying the 'Russiagate' conspiracy theory, according to research by Matt Taibbi.
In a pattern established in just six weeks, from August to October 2017, Twitter went from being on nobody's radar to agreeing to take orders from US spies as to whom to censor, Taibbi wrote on Substack.
"Threats from Congress came first, then a rush of bad headlines (inspired by leaks from congressional committees), and finally a series of moderation demands coming from the outside," he added.
In a 30-tweet thread, Taibbi presented emails and other internal documents he obtained, thanks to Twitter's new owner, Elon Musk.
Democrats had accused Russia of helping Donald Trump defeat Hillary Clinton in the 2016 presidential election. Their claim that Trump had ties with Moscow was based on a 'dossier' fabricated by a British spy. From there, they insinuated that WikiLeaks' publishing of internal DNC documents and personal emails of Clinton's campaign had something to do with Moscow, while 'Russian bots and trolls' posted 'misinformation' on social media, which somehow undermined the election.
By August 2017, Facebook was purging accounts accused of being "linked to Russia." Unconcerned, Twitter sent over a list of 22 "possible" Russian accounts to the Senate Intelligence Committee, only to be denounced by Senator Mark Warner of Virginia, the ranking Democrat.
By the end of September, Twitter VP for Public Policy Colin Crowell was warning that "Warner has political incentive to keep this issue at top of the news, maintain pressure on us and [the] rest of industry to keep producing material for them." Crowell also noted the Democrats were "taking cues from Hillary Clinton," and that only Warner and his House counterpart, Congressman Adam Schiff, were seeking any comments from social media companies.
Meanwhile, as Taibbi put it, "a torrent of stories sourced to the [committee] poured into the news," while several senators – including Warner but also John McCain, an anti-Trump Arizona Republican – proposed bills that would have cracked down on social media.
A "Russia Task Force" set up by Twitter on October 2 found "no evidence of a coordinated approach" by October 13. The final report on October 23 found "32 suspicious accounts and only 17 of those are connected with Russia." Of those, only two spent anything close to $10,000 on advertising – and one of them was RT.
Policy Director Carlos Monje admits in an October 18 memo that "our ads policy and product changes are an effort to anticipate congressional oversight." One of these changes was the October 26 ban on advertising by RT and Sputnik.
A November 22 internal email accuses the Senate Intelligence Committee of leaking Twitter's internal report to the media. A Politico story accusing Twitter of deleting files is followed by a BuzzFeed article alleging a German-language bot network with "signs of being connected to Russia." The committee demanded a report based on the story, which Twitter's Yoel Roth dutifully wrote up.
"You can see how the Russian cyber-threat was essentially conjured into being, with political and media pressure serving as the engine inflating something Twitter believed was negligible and uncoordinated to massive dimensions," Taibbi wrote.
All of this results in the internal instructions to ban anything "identified by the US intelligence community as a state-sponsored entity conducting cyber-operations." It was the first step in the process that would eventually lead to the FBI and the Biden White House telling Twitter exactly who to censor.
You can share this story on social media: