Scholz reveals Germany's goal in Ukraine
The chancellor also vowed to keep his nerve while dealing with the conflict between Moscow and Kiev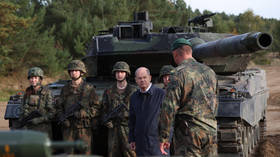 The aim that Germany is striving to achieve by assisting Ukraine in its conflict with Russia is to prevent Moscow from changing borders through force, German Chancellor Olaf Scholz has said. The statement comes days after Berlin promised to provide Kiev with its Leopard 2 tanks after weeks of pressure from the US and other NATO allies.
In a brief video address on Saturday, Scholz said that Germany has been pursuing a three-pronged policy since the outbreak of the conflict. He defined the three facets as helping Kiev with humanitarian aid, finances, and weapons; working to prevent an escalation, because "a war between Russia and NATO shouldn't happen"; and working in strict coordination with its allies, especially the US, while refraining from any unilateral moves.
This is the approach that the German government will stick to going forward, the chancellor assured.
According to Scholz, his cabinet's decision to supply 14 Leopard 2 main battle tanks to Ukraine and allow other countries to also provide German-made armor to the Zelensky government was made in line with that policy.
"Our goal is clear" in Ukraine, the German leader said. "Russia mustn't succeed in changing borders through force."
In autumn, four former Ukrainian territories – Zaporozhye and Kherson Regions, as well as the Donetsk and Lugansk People's Republics – joined the Russian state after their populations overwhelmingly supported doing so in referendums. Crimea did the same back in 2014 after a coup in Kiev.
A survey carried out by the pollster YouGov on behalf of the DPA news agency last week revealed that 43% of Germans were against giving tanks to Kiev, 39% were in favor of doing so, with 16% remaining undecided.
"Many citizens are very worried. Of course, you want peace in Europe; war not getting closer; and the government and the chancellor keeping their nerve. And I promise this to you," Scholz said.
Kremlin press secretary Dmitry Peskov said that Russia views the announced deliveries of tanks by Germany, the US, and UK to Ukraine as the "direct involvement" of NATO in the conflict in Ukraine. "And this involvement is growing," he stressed.
However, Peskov stated that the Western armor would not be a game changer in the conflict, saying that NATO "clearly overestimates the potential that this is going to add to the Ukrainian military." In a separate interview, he pointed out that Berlin's decision to provide Leopard 2s to Kiev will definitely "leave a mark" on Russian-German relations that are already at a low point.
You can share this story on social media: