France denies the West is at war with Russia
Sending tanks to Ukraine doesn't make the country or its allies a party to the conflict, Paris declared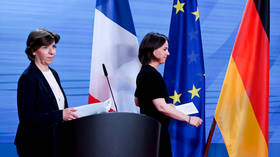 Decisions by the US, Germany and several other countries to supply main battle tanks to Ukraine do not mean NATO is at war with Moscow, the French Foreign Ministry said on Wednesday. The comments from Quai d'Orsay come after a controversial speech by German Foreign Minister Annalena Baerbock in the European Parliament earlier this week.
"We are not at war with Russia and none of our partners are," ministry spokeswoman Anne-Claire Legendre said on Thursday, according to AFP. "The delivery of military equipment... does not constitute co-belligerence."
The day before, Washington announced it would send more than 30 of its M1 Abrams tanks to Kiev, while Berlin said it would contribute over a dozen Leopard 2 panzers and not stand in the way of Poland and other EU and NATO members who wish to hand theirs over to Ukraine as well.
Seeking to drum up support for tank deliveries on Tuesday, Baerbock told the Parliamentary Assembly of the Council of Europe (PACE) that the EU must move in lockstep "because we are fighting a war against Russia and not against each other."
Asked to clarify her comments, the German Foreign Ministry said that Russia had launched a "war of aggression" against Ukraine and that international law was "clear" that Berlin's support for Kiev's "individual right of self-defense, guaranteed by the UN Charter, does not make Germany a party to the conflict."
On Wednesday, French PM Elisabeth Borne told the parliament in Paris that her government was "continuing our analysis" of the proposal to send Leclerc tanks to Ukraine. France has already promised Kiev a number of AMX-10 "light tanks," earlier this month.
Meanwhile, French FM Catherine Colonna visited Ukraine on Thursday, meeting with her counterpart Dmitry Kuleba in Odessa to "show France's long-term support" and "assess Ukraine's urgent needs in the humanitarian and military sectors in order to provide concrete responses," according to a press release from Quai d'Orsay.
You can share this story on social media: