EU state reveals Patriot 'contribution' to Ukraine
The Netherlands will send two launchers – not a full battery – as a "political signal" to Russia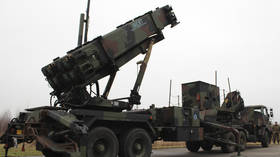 Dutch PM Mark Rutte's promise of a "substantial contribution" to Ukraine's air defenses was revealed on Friday to be two US-made Patriot missile launchers, a number of projectiles for them, and a pledge to train several hundred Ukrainians in their use.
"This is a political signal to Russia that the cabinet is determined to continue supporting Ukraine," Dutch Defense Minister Kajsa Ollongren said in a letter to the parliament. She noted that this was done in response to calls by Ukrainian President Vladimir Zelensky for aid in bolstering Kiev's air defenses against strikes by Russian missiles and drones.
Some 65 Royal Dutch Marines will also train a total of 400 Ukrainian troops at a range in the UK, with the training scheduled to run through April.
Each Patriot battery typically consists of eight launchers, a ground radar, and a control station. The Dutch military has three active batteries with the fourth in reserve, Ollongren told lawmakers.
"We can spare them," the minister said. "It is extremely important to help Ukraine now. Innocent people are being affected and you have to do what you can."
Her letter comes three days after Rutte visited Washington and promised US President Joe Biden a "substantial contribution" of Patriots to Kiev, without giving any numbers. The US and Germany have also pledged to deliver at least two batteries to Ukraine, but the Pentagon said the process would take "months."
Russia has repeatedly warned the West that sending weapons to Ukraine only prolongs the conflict and risks direct confrontation. Kiev has received almost $100 billion in military support from the US and its allies in 2022, according to Moscow's estimates.
Developed in the 1980s, Patriots were first used in combat against Iraqi ballistic missiles during the 1991 Gulf War. A number of third-generation Patriot systems were deployed in Saudi Arabia in January 2020, but failed to defeat a drone attack by Yemen's Houthi rebels against the Aramco oil refinery and several military bases.
You can share this story on social media: